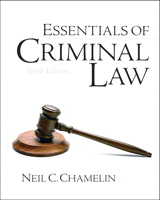 Description
For courses in Introductory Criminal Law.
Known for its straightforward and non-legalese approach,
Essentials of Criminal Law
10e continues to deliver a clear, concise and lively introduction to criminal law. This best-selling text includes coverage of all the latest legal issues and Supreme Court decisions, and presents thought-provoking questions and real-life case studies that stimulate critical thinking and debate. Taking a broader approach, this edition is updated throughout and includes revised sections on insanity, hate crimes, drugs, juveniles and the death penalty, and fleeing or attempting to elude a law enforcement officer.
Table of Contents
1. Historical Background of Criminal Law.
2. Fundamentals of Criminal Law.
3. Jurisdiction.
4. The Criminal Act.
5. The Mental Element.
6. Matters Affecting Criminal Responsibility: Affirmative Defenses.
7. Assault and Related Crimes.
8. Homicide.
9. Sex Offenses and Offenses to the Family Relationship.
10. Theft.
11. Robbery.
12. Burglary and Related Offenses.
13. Arson.
14. Forgery and Related Offenses.
15. False Imprisonment, Abduction, and Kidnapping.
16. Crimes Involving Narcotic Drugs and Alcoholic Beverages.
17. Extortion, Blackmail, and Bribery.
18. Offenses by and Against Juveniles.
19. Traffic Offenses.
20. Crimes Affecting Judicial Process.
21. Crimes Against Public Order.
22. Organized, White Collar, and Commercial Crimes.
Purchase Info ?
With CourseSmart eTextbooks and eResources, you save up to 60% off the price of new print textbooks, and can switch between studying online or offline to suit your needs.
Once you have purchased your eTextbooks and added them to your CourseSmart bookshelf, you can access them anytime, anywhere.
Buy Access
Essentials of Criminal Law, CourseSmart eTextbook, 10th Edition
Format: Safari Book
$52.99 | ISBN-13: 978-0-13-501717-3