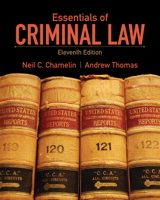 Description
For all courses on criminal law in criminal justice or affiliated programs; and for other general criminal law courses offered at any institution of higher education.
ESSENTIALS OF CRIMINAL LAW, 11/e is an easy-to-read, clear, and comprehensive introduction to criminal law for criminal justice majors and non-majors at all levels. Avoiding overly complex issues, it explains key principles through real-world examples, so they can be easily and quickly understood. Thoroughly reviewed and revised for even greater clarity and relevance, this edition contains multiple examples from drawn from The American Law Institute's Model Penal Code. Even more than previous editions, it goes beyond a pure "law enforcement" orientation, offering a broader and more all-encompassing approach to criminal law. This edition also contains extensive updates to reflect the latest changes in statutory and case law; notably, revisions related to narcotics law, juvenile offenses, forgery and counterfeiting.
Table of Contents
Preface
1. Historical Background of Criminal Law
2. Fundamentals of Criminal Law
3. Jurisdiction
4. The Criminal Act
5. The Mental Element
6. Matters Affecting Criminal Responsibility: Affirmative Defenses
7. Assault and Related Crimes
8. Homicide
9. Sex Offenses and Offenses to the Family Relationship
10. Theft
11. Robbery
12. Burglary and Related Offenses
13. Arson
14. Forgery, Uttering and Counterfeiting
15. False Imprisonment, Abduction, and Kidnapping
16. Crimes Involving Narcotic Drugs and Alcoholic Beverages
17. Extortion, Blackmail, and Bribery
18. Offenses By and Against Juveniles
19. Traffic Offenses
20. Crimes Affecting the Judicial Process
21. Crimes against Public Order
22. Organized, White-Collar, and Commercial Crimes
Purchase Info ?
With CourseSmart eTextbooks and eResources, you save up to 60% off the price of new print textbooks, and can switch between studying online or offline to suit your needs.
Once you have purchased your eTextbooks and added them to your CourseSmart bookshelf, you can access them anytime, anywhere.
Buy Access
Essentials of Criminal Law, CourseSmart eTextbook, 11th Edition
Format: Safari Book
$53.99 | ISBN-13: 978-0-13-511025-6