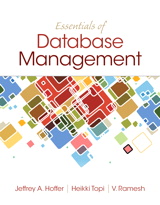 Description
For courses in Database Management

Provide the latest information in database development.

Focusing on the topics that leading database practitioners say are most important, Essentials of Database Management presents a concise overview designed to ensure practical success for database professionals.

Built upon the strong foundation of Modern Database Management, currently in its eleventh edition, the new Essentials of Database Management is ideal for a less-detailed course. Like its comprehensive counterpart, it guides students into the future by presenting research that could reveal the "next big thing" in database management. And it features up-to-date coverage in the areas undergoing rapid change due to improved managerial practices, database design tools and methodologies, and database technology.
Table of Contents
PART I. THE CONTEXT OF DATABASE MANAGEMENT
1. The Database Environment and Development Process

PART II. DATABASE ANALYSIS
2. Modeling Data in the Organization
3. The Enhanced E-R Model

PART III. DATABASE DESIGN
4. Logical Database Design and the Relational Model
5. Physical Database Design and Performance

PART IV. IMPLEMENTATION
6. Introduction to SQL
7. Advanced SQL
8. Database Application Development
9. Data Warehousing

Glossary of Acronyms
Glossary of Terms
Index


Purchase Info ?
With CourseSmart eTextbooks and eResources, you save up to 60% off the price of new print textbooks, and can switch between studying online or offline to suit your needs.
Once you have purchased your eTextbooks and added them to your CourseSmart bookshelf, you can access them anytime, anywhere.
Buy Access
Essentials of Database Management, CourseSmart eTextbook
Format: Safari Book
$71.99 | ISBN-13: 978-0-13-340579-8