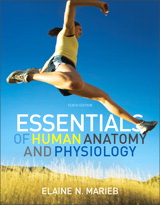 Description
Now in its Tenth Edition, Essentials of Human Anatomy & Physiology continues to set the standard for short-course A&P texts. Its dramatically updated art program, more streamlined presentation of material, and integration of chapter objectives will help you better visualize and understand the structure and function of the human body. Elaine Marieb's clear and friendly writing style emphasizes the relevance of anatomy & physiology to your life and future career. The book clarifies concepts, defines key terms, and offers just the right balance of anatomy, physiology, and clinical coverage to make the content complete without being overwhelming.
Elaine Marieb wrote this book specifically for the one-semester course and continues to carefully select a range of material that proves just right for the shorter course. New information on hot topics like the HPV Vaccine, Infantile Polycystic Kidney disease, and Sudden Infant Death Syndrome (SIDS) draws students into the material.
The book also includes the Essentials of Interactive Physiology®CD-ROM and a Companion Website.
Table of Contents
1. The Human Body: An Orientation
2. Basic Chemistry
3. Cells and Tissues
4. Skin and Body Membranes
5. The Skeletal System
6. The Muscular System
7. The Nervous System
8. Special Senses
9. The Endocrine System
10. Blood
11. The Cardiovascular System
12. The Lymphatic System and Body Defenses
13. The Respiratory System
14. The Digestive System and Body Metabolism
15. The Urinary System
16. The Reproductive System
Purchase Info
ISBN-10: 0-321-70728-1
ISBN-13: 978-0-321-70728-4
Format: Alternate Binding
Digital Choices ?
MyLab & Mastering with Pearson eText is a complete digital substitute for a print value pack at a lower price.
MyLab & Mastering ?
MyLab & Mastering products deliver customizable content and highly personalized study paths, responsive learning tools, and real-time evaluation and diagnostics. MyLab & Mastering products help move students toward the moment that matters most—the moment of true understanding and learning.
+ Other Options