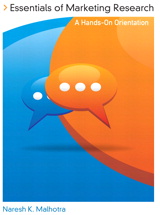 Description
For courses in Marketing Research at two- and four-year colleges and universitiesAn engaging, do-it-yourself approach to marketing researchEssentials of Marketing Research: A Hands-On Orientation
presents a concise overview of marketing research via a do-it-yourself approach that engages students. Building on the foundation of his successful previous titles–
Basic Marketing Research: Integration of Social Media
and
Marketing Research: An Applied Orientation
–author Naresh Malhotra covers concepts at an elementary level, deemphasizing statistics and formulas. Sensitive to the needs of today's undergraduates, Malhotra integrates online and social media content, and provides current, contemporary examples that ground course material in the real world.
This text provides a better teaching and learning experience–for you and your students. It will help you to:
• Give students a framework for understanding: A clear framework helps students grasp marketing research principles, as well as the relationship between marketing research and management.
• Emphasize practical applications: A do-it-yourself approach and detailed real-world cases let students see how marketing research is actually conducted.
• Foster interest through contemporary content: Current examples and an emphasis on online market research and social media helps students understand the relevance of course material.
• Enable student success via learning aids: Various tools, throughout the text and at the end of each chapter, support students as they learn and review.
Table of Contents
I. INTRODUCTION AND EARLY PHASES OF MARKETING RESEARCH
1. Introduction to Marketing Research
2. Defining the Marketing Research Problem and Developing an Approach

II. RESEARCH DESIGN FORMULATION
3. Research Design, Secondary and Syndicated Data
4. Qualitative Research
5. Survey and Observation
6. Experimentation and Causal Research
7. Measurement and Scaling
8. Questionnaire and Form Design
9. Sampling Design and Procedures

III. DATA COLLECTION, ANALYSIS, AND REPORTING
10. Data Collection and Preparation
11. Data Analysis: Frequency Distribution, Hypothesis Testing, and Cross-Tabulation
12. Data Analysis: Hypothesis Testing Related to Differences, Correlation, and Regression
13. Report Preparation and Presentation
These online resources are available at no cost.
Companion Website for Essentials of Marketing Research: A Hands-On Orientation