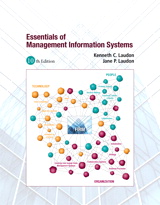 Description
An in-depth look at how today's businesses use information technologies.

Many businesses look for candidates who know how to use information systems, making a general understanding of information systems an asset to any business professional. Laudon and Laudon continue to emphasize how business objectives shape the application of new information systems and technologies.

The tenth edition features new opening, closing, and Interactive Session cases, as well as updated text, figures, tables, and cases.

Table of Contents
Chapter 1: Business Information Systems in Your Career
Chapter 2: Global E-Business: and Collaboration
Chapter 3: Achieving Competitive Advantage with Information Systems
Chapter 4: IT Infrastructure: Hardware and Software
Chapter 5: Foundations of Business Intelligence: Databases and Information Management
Chapter 6: Telecommunications, the Internet, and Wireless Technology
Chapter 7: Securing Information Systems Case 1: IBM Zone Trusted Information Channel (ZTIC)
Chapter 8: Achieving Operational Excellence and Customer Intimacy: Enterprise Applications
Chapter 9: E-Commerce: Digital Markets, Digital Goods
Chapter 10: Improving Decision Making and Managing Knowledge
Chapter 11: Building Information Systems and Managing Projects
Chapter 12: Ethical and Social Issues in Information Systems
These online resources are available at no cost.
Companion Website for Essentials of MIS, 10th Edition
Purchase Info
ISBN-10: 0-13-266855-6
ISBN-13: 978-0-13-266855-2
Format: Alternate Binding
Digital Choices ?
MyLab & Mastering with Pearson eText is a complete digital substitute for a print value pack at a lower price.
MyLab & Mastering ?
MyLab & Mastering products deliver customizable content and highly personalized study paths, responsive learning tools, and real-time evaluation and diagnostics. MyLab & Mastering products help move students toward the moment that matters most—the moment of true understanding and learning.
+ Other Options