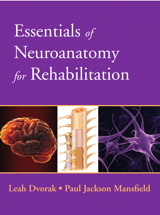 Description
For courses in neuroscience, neuroanatomy, and the treatment of neurological disease and injury in health care professional programs including: physical therapy and physical therapist assistant; occupational therapy and certified occupational therapist assistant; speech/language pathology, radiology, nursing, pharmacy, dentistry, and physician assistant programs.
This text makes the complex and beautiful human nervous system as clear, transparent and easy to understand as possible. It gives healthcare students a solid foundation in the human nervous system's structures, pathways, connections, and functions; and helps them apply this knowledge in treating and educating patients with neurological challenges. Clear, vivid, and concise, it avoids extraneous detail while illuminating the brain, spinal cord and peripheral nervous system with large, uncluttered art. Patient case studies and clinical boxes bring key concepts to life; questions associated with these discussions assess students' understanding and promote deeper insight. Organized to reflect the authors' many years of effective neuroanatomy teaching, the text includes full chapters on crucial topics such as movement, cognition and behavior, development and aging, and healing the brain.
Table of Contents
1. Introduction to Neuroanatomy
2. Regional Anatomy
3. Cell Structure and Function
4. Synapses
5. The Cerebral Cortex
6. The Diencephalon
7. The Brainstem and Cranial nerves
8. The Spinal Cord
9. The Peripheral Nervous System
10. The Autonomic Nervous System
11. Somatosensation
12. Special Sensory Systems
13. Movement
14. Cognition and Behavior
15. Development and Aging
16. Healing the Brain
Appendix A. Glossary
Appendix B. Answers to Patient Scenarios
Appendix C. Answers to Review Questions
Appendix D. Answers to Clinical Boxes
Index
Purchase Info ?
With CourseSmart eTextbooks and eResources, you save up to 60% off the price of new print textbooks, and can switch between studying online or offline to suit your needs.
Once you have purchased your eTextbooks and added them to your CourseSmart bookshelf, you can access them anytime, anywhere.
Buy Access
Essentials of Neuroanatomy for Rehabilitation, CourseSmart eTextbook
Format: Safari Book
$34.99 | ISBN-13: 978-0-13-281455-3