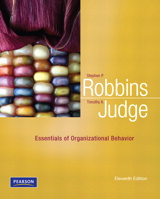 Description
For one-semester undergraduate and graduate level courses in Organizational Behavior.

Concise fundamentals for students. Ultimate flexibility for instructors.
This bestselling, brief alternative for the OB course covers all the key concepts needed to understand, predict, and respond to the behavior of people in real-world organizations. This text also includes cutting-edge topics and streamlined pedagogy to allow maximum flexibility in designing and shaping your course.
The eleventh edition contains expanded and updated coverage on international issues, as well as new sections on the management of information, safety and emotions at work, risk aversion, self-determination theory, managing information, and downsizing.
Accompanied by mymanagementlab!
See the hands in the air, hear the roar of discussion–be a rock star in the classroom. mymanagementlab makes it easier for you to rock the classroom by helping you hold students accountable for class preparation, and getting students engaged in the material through an array of relevant teaching and media resources. Visit
mymanagementlab.com
for more information.
Table of Contents
Part 1: Prologue

Chapter 1 – Introduction to Organizational Behavior

Part 2: The Individual in the Organization

Chapter 2 – Attitudes and Job Satisfaction
Chapter 3 – Emotion and Moods
Chapter 4 – Personality and Values
Chapter 5 – Perception and Individual Decision Making
Chapter 6 – Motivation Concepts
Chapter 7 – Motivation: From Concept to Application

Part 3: Groups in the Organization

Chapter 8 – Foundations of Group Behavior
Chapter 9 – Understanding Work Teams
Chapter 10 – Communication
Chapter 11 – Leadership
Chapter 12 – Power and Politics
Chapter 13 – Conflict and Negotiation

Part 4: The Organization System

Chapter 14 – Foundations of Organization Structure
Chapter 15 – Organizational Culture
Chapter 16 – Organizational Change and Stress Management


This title is also sold in the various packages listed below. Before purchasing one of these packages, speak with your professor about which one will help you be successful in your course.
Package ISBN-13: 9780132616270
Includes this title packaged with:
Self Assessment Library 3.4
Stephen P. Robbins
$161.80 | Add to Cart
Package ISBN-13: 9780132837040
Includes this title packaged with:
Framework for Human Resource Management, A, 6th Edition
Gary Dessler
$293.13 | Add to Cart
Purchase Info
ISBN-10: 0-13-254530-6
ISBN-13: 978-0-13-254530-3
Format: Alternate Binding
Digital Choices
MyLab & Mastering ?
MyLab & Mastering products deliver customizable content and highly personalized study paths, responsive learning tools, and real-time evaluation and diagnostics. MyLab & Mastering products help move students toward the moment that matters most—the moment of true understanding and learning.
eTextbook ?
With CourseSmart eTextbooks and eResources, you save up to 60% off the price of new print textbooks, and can switch between studying online or offline to suit your needs.
Once you have purchased your eTextbooks and added them to your CourseSmart bookshelf, you can access them anytime, anywhere.