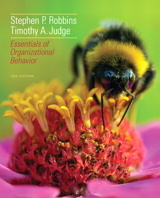 Description
For one-semester undergraduate and graduate level courses in Organizational Behavior.
Concise fundamentals for students. Ultimate flexibility for instructors.
This bestselling, brief alternative for the OB course covers all the key concepts needed to understand, predict, and respond to the behavior of people in real-world organizations. This text also includes cutting-edge topics and streamlined pedagogy to allow maximum flexibility in designing and shaping your course.
Table of Contents
I. PROLOGUE
1. Introduction to Organizational Behavior
II. THE INDIVIDUAL IN THE ORGANIZATION
2. Diversity in Organizations
3. Attitudes and Job Satisfaction
4. Emotions and Moods
5. Personality and Values
6. Perception and Individual Decision Making
7. Motivation Concepts
8. Motivation: From Concepts to Applications
III. GROUPS IN THE ORGANIZATION
9. Foundations of Group Behavior
10. Understanding Work Teams
11. Communication
12. Leadership
13. Power and Politics
14. Conflict and Negotiation
IV. THE ORGANIZATION SYSTEM
15. Foundations of Organization Structure
16. Organizational Culture
17. Organizational Change and Stress Management
Purchase Info ?
With CourseSmart eTextbooks and eResources, you save up to 60% off the price of new print textbooks, and can switch between studying online or offline to suit your needs.
Once you have purchased your eTextbooks and added them to your CourseSmart bookshelf, you can access them anytime, anywhere.
Buy Access
Essentials of Organizational Behavior, CourseSmart eTextbook, 12th Edition
Format: Safari Book
$72.99 | ISBN-13: 978-0-13-302193-6