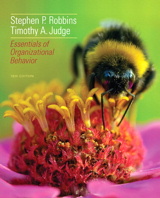 Description
Directed primarily toward undergraduate or graduate Management or Business college/university majors, this text also provides practical content to current and aspiring industry professionals.
This bestselling OB text covers all the key concepts needed to understand, predict, and respond to the behavior of people in real-world organizations. Cutting-edge topics are included throughout.
Table of Contents
I. PROLOGUE
1. Introduction to Organizational Behavior
II. THE INDIVIDUAL IN THE ORGANIZATION
2. Diversity in Organizations
3. Attitudes and Job Satisfaction
4. Emotions and Moods
5. Personality and Values
6. Perception and Individual Decision Making
7. Motivation Concepts
8. Motivation: From Concepts to Applications
III. GROUPS IN THE ORGANIZATION
9. Foundations of Group Behavior
10. Understanding Work Teams
11. Communication
12. Leadership
13. Power and Politics
14. Conflict and Negotiation
IV. THE ORGANIZATION SYSTEM
15. Foundations of Organization Structure
16. Organizational Culture
17. Organizational Change and Stress Management
Purchase Info
Digital Choices ?
MyLab & Mastering with Pearson eText is a complete digital substitute for a print value pack at a lower price.
MyLab & Mastering ?
MyLab & Mastering products deliver customizable content and highly personalized study paths, responsive learning tools, and real-time evaluation and diagnostics. MyLab & Mastering products help move students toward the moment that matters most—the moment of true understanding and learning.
+ Other Options
Print Choices
Alternative Options ?
Click on the titles below to learn more about these options.
Loose Leaf Version ?
Books a la Carte are less-expensive, loose-leaf versions of the same textbook.