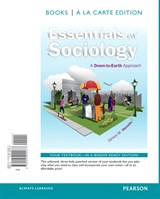 Description
A Down-to-Earth Approach
James Henslin shares the excitement of sociology. With his acclaimed "down-to-earth" approach and personal writing style, the author highlights the sociology of everyday life and its relevance to students' lives. With wit, personal reflection, and illuminating examples, Henslin shares with readers his passion for sociology.
In addition to this trademark down-to-earth approach, other distinctive features include: comparative perspectives, the globalization of capitalism, and visual presentations of sociology.
Teaching & Learning Experience
Personalize Learning – The new MySocLab delivers proven results in helping students succeed, provides engaging experiences that personalize learning, and comes from a trusted partner with educational expertise and a deep commitment to helping students and instructors achieve their goals.

Improve Critical Thinking - New Learning Objectives & Questions on each page reinforce key concepts and build critical thinking skills.

Engage Students - New design and personal narrative from the perspective of an international field researcher invites students on a sociological journey.

Explore Theory - Offers a balanced approach; relevant theories are discussed in each chapter.

Understand Diversity - Global, national, and personal material combine to present a complete view of the world.

Support Instructors - New Integrated Test Bank & written activities and assessment in MySocLab engage students and help them succeed.
Note: MySocLab does not come automatically packaged with this text. To purchase MySocLab, please visit:
www.mysoclab.com or you can purchase a valuepack of the text + MySocLab (at no additional cost).
Table of Contents
Chapter 1 The Sociological Perspective
Chapter 2 Culture
Chapter 3 Socialization
Chapter 4 Social Structure and Social Interaction
Chapter 5 Social Groups and Formal Organizations
Chapter 6 Deviance and Social Control
Chapter 7 Global Stratification
Chapter 8 Social Class in the United States
Chapter 9 Race and Ethnicity
Chapter 10 Gender and Age
Chapter 11 Politics and the Economy
Chapter 12 Marriage and Family
Chapter 13 Education and Religion
Chapter 14 Population and Urbanization
Chapter 15 Social Change and the Environment
Epilogue: Why Major in Sociology?