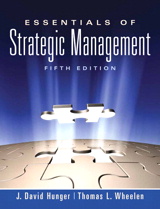 Description
For undergraduate and graduate level Strategic Management courses.

Get straight to the heart of important strategic management concepts.

This brief text offers a concise explanation of the most important concepts and techniques in strategic management. Further, cases and simulations are a perfect supplement to Essentials of Strategic Management, while its brevity also makes it suitable for use in corporate and executive training programs.

This edition contains new information to reflect the latest changes in the discipline while remaining brief and to the point.


Table of Contents
Part 1: Introduction to Strategic Management
Chapter 1: Basic Concepts of Strategic Management
Chapter 2: Corporate Governance, Ethics, and Social Responsibility
Part 2: Scanning the Environment
Chapter 3: Environmental Scanning and Industry Analysis
Chapter 4: Internal Scanning: Organizational Analysis
Part 3: Strategy Formulation
Chapter 5: Strategy Formulation: Situation Analysis and Business Strategy
Chapter 6: Strategy Formulation: Corporate Strategy
Chapter 7: Strategy Formulation: Functional Strategy and Strategic Choice
Part 4: Strategy Implementation and Control
Chapter 8: Strategy Implementation: Organizing for Action
Chapter 9: Strategy Implementation: Staffing and Leading
Chapter 10: Evaluation and Control
Part 5: Introduction to Case Analysis
Chapter 11: Suggestions for Case Analysis

Appendix A: Suggested Techniques for Case Analysis and Presentation
Appendix B: Resources for Case Research
Appendix C: Strategic Audit of a Corporation


Purchase Info ?
With CourseSmart eTextbooks and eResources, you save up to 60% off the price of new print textbooks, and can switch between studying online or offline to suit your needs.
Once you have purchased your eTextbooks and added them to your CourseSmart bookshelf, you can access them anytime, anywhere.
Buy Access
Essentials of Strategic Management, CourseSmart eTextbook, 5th Edition
Format: Safari Book
$53.99 | ISBN-13: 978-0-13-510000-4