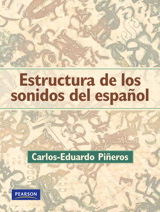 Description
Estructura de los sonidos del español provides Spanish learners with the explanations, materials, and exercises they need to develop a native-like pronunciation, and guides them through the discovery of the principles that underlie the Spanish sound system. Following a bottom-up approach, Estructuras builds progressively from simple to more intricate sound structures while emphasizing the connections that exist among different sound levels. Clear explanations and effective exercises are the hallmark features of all chapters.
Access Card for MySpanishLab website provides a wealth of audio-visual practice materials, native speaker speech samples, voice-recording capabilities, etc.
0205981119 / 9780205981113 Estructura de los sonidos del espanol Plus MySpanishLab (one semester) with eText -- Access Card Package
Package consists of:
0131944371 / 9780131944374 Estructura de los sonidos del español
0205979491 / 9780205979493 MySpanishLab -- Access Card -- for Estructura de los sonidos del español (one semester access)
Purchase Info
ISBN-10: 0-205-98111-9
ISBN-13: 978-0-205-98111-3
Format: Book
$158.47
We're temporarily out of stock, but order now and we'll send it to you later.
Back Order
Digital Choices
MyLab & Mastering ?
MyLab & Mastering products deliver customizable content and highly personalized study paths, responsive learning tools, and real-time evaluation and diagnostics. MyLab & Mastering products help move students toward the moment that matters most—the moment of true understanding and learning.
eTextbook ?
With CourseSmart eTextbooks and eResources, you save up to 60% off the price of new print textbooks, and can switch between studying online or offline to suit your needs.
Once you have purchased your eTextbooks and added them to your CourseSmart bookshelf, you can access them anytime, anywhere.