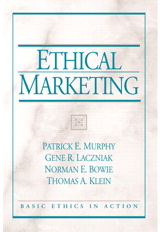 Description
For Marketing and Business Ethics courses in business or philosophy departments.
This text explores ethical issues facing marketing practitioners. It presents ethical theory in marketing context. Coverage includes advertising, product safety and targeting markets as well as marketing research, product counterfeiting, channels of distribution, selling practices and how to implement ethics into marketing organizations. Part of the applied ethics series, Basic Ethics in Action, edited by Michael Boylan.
Table of Contents
1. Ethical Reasoning and Marketing Decisions.
Views of Marketing Ethics. Principles for Ethical Decision Making. The Importance of Ethical Theory. Two Pseudo "Ethical" Approaches. Comprehensive Ethical Theories. Religious Models of Marketing Ethics. Other Theoretical Developments in Marketing Ethics. Ideas for Ethical Marketing.
2. Ethics in Researching and Segmenting Markets.
Professionalism and Ethics. Duties and Obligations of Researchers. What Researchers and Clients Owe One Another. What Researchers Owe the Public. Competitive Intelligence Gathering. Target Markets: Some Special Ethical Concerns. Ideas For Ethical Marketing. Concluding Comment.
3. Product Management Ethics.
Product Safety. Product Counterfeiting. Socially Controversial Products. Ethical Branding Concerns. Ethical Branding Practices. Ethical Product Management. How to Evaluate Ethics in Product Management. Ideas for Ethical Marketing. Concluding Comment.
4. Ethical Issues in Distribution Channels and Pricing.
Channel of Distribution Issues. Pricing Issues. Ideas for Ethical Marketing. Concluding Comment.
5. Ethics in Advertising and on the Internet.
The Power and Complexity of Advertising. Advertising and Society. Regulating Advertising Practices. Ethics and the Advertising Industry. Ethical Issues Facing Advertising. Ethics in Internet Advertising and Marketing. Positive Developments and Future Challenges for Ethics in Advertising. Advertisers and Ethical Principles in Action. Ideas for Ethical Marketing. Concluding Comment.
6. Personal Selling Ethics.
Why Personal Selling Presents Particularly Difficult Ethical Questions. Selling and the Law. The Gray Areas of Selling. Sales Management Ethics. Direct Marketing and Selling. Ideas for Ethical Marketing. A Framework to Evaluate Sales Ethics. Concluding Comment.
7. Implementing and Auditing Ethical Marketing.
Organizing for Marketing Ethics Implementation. Corporate Culture: The Informal Organization. Enacting Ethical Marketing Policies. The Concept of an Ethical Audit. Ideas for Ethical Marketing. Concluding Comments.
Appendix 7A. Ethical Compliance Audit. Appendix 7B. Ethical Climate Audit.
Purchase Info ?
With CourseSmart eTextbooks and eResources, you save up to 60% off the price of new print textbooks, and can switch between studying online or offline to suit your needs.
Once you have purchased your eTextbooks and added them to your CourseSmart bookshelf, you can access them anytime, anywhere.
Buy Access
Ethical Marketing, CourseSmart eTextbook
Format: Safari Book
$29.99 | ISBN-13: 978-0-13-132822-8