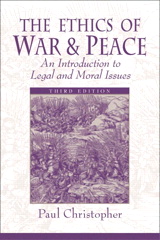 Description
For Philosophy courses in applied ethics, just war theory, and international law.
Classic introduction to the ethics of war and peace, exploring legal and moral issues of use of force. Used at U.S. military academies, this book focuses on two fundamental moral principles: 1) human beings should not intentionally harm other human beings and 2) human beings may sometimes resort to violence to keep themselves and/or others from harm.
Table of Contents
Introduction.
I. THE JUST WAR TRADITION.
1. The Just War in Antiquity.
2. Christianity and the Just War.
3. Saint Augustine and the Tradition of Just War.
4. Secularization of the Just War Tradition.
II. THE LEGAL POSITION OF WAR.
5. Hugo Grotius: Father of International Law.
6. Hugo Grotius and the Just War.
7. Problems for International Law.
III. MORAL ISSUES IN WAR.
8. The Responsibility for War Crimes.
9. Military Necessity.
10. Reprisals.
11. Terrorism and War.
12. The Just War and Weapons of Mass Destruction.
IV. PROFESSIONAL AND HUMANITARIAN OBLIGATIONS.
13. The Military as a Profession.
14. Unjust Wars and Professional Responsibility.
15. The Role of the United Nations.
Glossary.
Selected Bibliography.
Index.