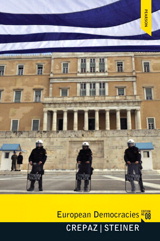 Description
Organized thematically rather than country-by-country, European Democracies is an introduction to the politics and governments of Western, Central, and Eastern Europe.
Analyzing European countries from the level of the European Union and from the level of regions, this text surveys issues ranging from parties and policy to democratization and globalization. Throughout, Markus Crepaz and Jurg Steiner treat Europe as a single but diverse entity and ask students to compare what they learn about European politics with the politics of their own country.
Table of Contents
Chapter 1. Becoming Modern in Europe and America: Different History, Different Politics
Chapter 2. Political Parties
Chapter 3. Parliaments: How They are Elected and How They Work
Chapter 4. Cabinet Formation and Heads of State
Chapter 5. Courts
Chapter 6. Federalism and Referendum
Chapter 7. Social Movements
Chapter 8. The State and Economic Interest Groups
Chapter 9. Policy Outcomes
Chapter 10. The End of the Cold War
Chapter 11. Transitions to Democracy
Chapter 12. Nationalism and Ethnic Movements
Chapter 13. Power Sharing in Deeply Divided Societies
Chapter 14. The European Union
Chapter 15. Globalization and European Democracies
Purchase Info ?
With CourseSmart eTextbooks and eResources, you save up to 60% off the price of new print textbooks, and can switch between studying online or offline to suit your needs.
Once you have purchased your eTextbooks and added them to your CourseSmart bookshelf, you can access them anytime, anywhere.
Buy Access
European Democracies, CourseSmart eTextbook, 8th Edition
Format: Safari Book
$30.99 | ISBN-13: 978-0-205-85479-0