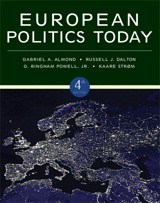 Description
The first comprehensive survey to include Western and Eastern European nations and the European Union, European Politics Today is the broadest available examination of Europe's diverse political systems.
Written by leading comparativists and area studies experts, this text introduces key concepts about political institutions, culture, and policy and follows them in seven authoritative country studies, which facilitates the comparison of political experience across the region. European Politics Today's innovative combination of theory and cases ensures that students explore individual countries in-depth and consider the issues that affect all of Europe.
Table of Contents
PART I. INTRODUCTION
Chapter 1. The European Context
Chapter 2. Democratic Political Culture and Political Action
Chapter 3. European Interest Groups and Parties
Chapter 4. Government and Public Policy
PART II. THE ESTABLISHED DEMOCRACIES
Chapter 5. Politics in England by Richard Rose
Chapter 6. Politics in France by Martin A. Schain
Chapter 7. Politics in Germany by Russell J. Dalton
Chapter 8. Politics in Spain by Donald Share
PART III. POLITICAL TRANSITIONS
Chapter 9. Politics in Russia by Thomas F. Remington
Chapter 10. Politics in Poland by Raymond C. Taras
Chapter 11. Politics in Bulgaria by Tatiana Kostadinova
PART IV. THE INTERNATIONAL DIMENSION
Chapter 12. Politics in the European Union by Alberta Sbragia and Francesco Stolfi
Purchase Info ?
With CourseSmart eTextbooks and eResources, you save up to 60% off the price of new print textbooks, and can switch between studying online or offline to suit your needs.
Once you have purchased your eTextbooks and added them to your CourseSmart bookshelf, you can access them anytime, anywhere.
Buy Access
European Politics Today, CourseSmart eTextbook, 4th Edition
Format: Safari Book
$54.99 | ISBN-13: 978-0-205-74369-8