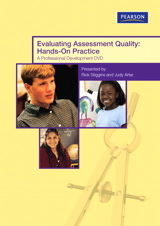 Description
Presented by Rick Stiggins and Judy Arter
This video introduces assessment quality standards and then turns those standards into checklists of key features and rubrics that any teacher can use to evaluate his or her classroom assessments. Materials for hands-on practice using checklists and rubrics included. 36 minutes. DVD with User's Guide on CD.
Also included in:
7 Training DVDs Package - ISBN 9780132548939
Total Professional Development Package - ISBN 9780132548922
Additional Resources from ATI

Visit http://ati.pearson.com to read more articles on assessment, download study guides, and more!