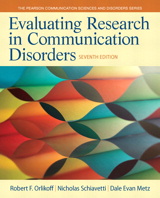 Description
For courses Research Methods (Communication Sciences and Disorders / Audiology Research (Communication Sciences and Disorders
A carefully organized, engaging, comprehensive guide to analyzing research articles
While maintaining the features that have made it withstand the test of time, the new edition of this classic text addresses contemporary needs and concerns, among the most prominent, the implementation of evidence-based practice. Conceptualized from the outset as guide to help clinicians and students become better consumers of the literature in their discipline—and in keeping with the current emphasis on evidence-based clinical decision making—the authors recognize the importance of the ability to critically evaluate research as an indispensable core competency for any practicing clinician.
With its primary focus on reading, understanding, and evaluating professional literature, and its emphasis on the different research designs and types of publications that can inform all components of evidence-based practice, this text gives readers:
A logical, highly useful organization reduces redundancy and improves efficiency:

Focused study questions help develop critical evaluation skills and guide student projects that involve the evaluation of research literature.

Up-to-date references, current research, and new topics are used to keep readers aware of the most contemporary findings in the field.
Table of Contents
Chapter 1: Evidence-based Practice in Communication Disorders
Chapter 2: The Introduction Section of the Research Article
Chapter 3: Research Strategies in Communication Disorders
Chapter 4: Research Design in Communication Disorders
Chapter 5: Experimental Designs for Studying Treatment Efficacy
Chapter 6: The Method Section of the Research Article
Chapter 7: The Results Section of the Research Article: Findings
Chapter 8: The Results Section of the Research Article: Statistical
Chapter 9: The Discussion and Conclusions Section of the Research Article
Chapter 10: Best Evidence and Clinical Decision Making
Appendix A: Complete Evaluation Checklist
Appendix B: A Compendium of Journals in Communication Sciences and Disorders