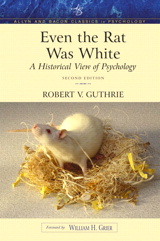 Description
Even The Rat Was White views history from all perspectives in the quest for historical accuracy. Histories and other background materials are presented in detail concerning early African-American psychologists and their scientific contributions, as well as their problems, views, and concerns of the field of social psychology. Archival documents that are not often found in mainstream resources are uncovered through the use of journals and magazines, such as the Journal of Black Psychology, the Journal of Negro Education, and Crisis.
Table of Contents
I. PSYCHOLOGY AND RACIAL DIFFERENCES.
1. "The Noble Savage" and Science.
Religious Views.
Philosophical and Scientific Views.
The Noble Savage View.
Skin Color Measurement.
Hair Texture Measurements.
Measuring Hair Color.
Measuring Thickness of Lips.
Anthropometry and Blacks.
Defining Racial Differences.
Classification of Black-White Mixtures.
Cultural Anthropologists.
Early Black Anthropologists.
"No Scientific Basis for Discrimination."
2. Brass Instruments and Dark Skins.
Ethnical Psychology.
Racial Designations.
Literary and Philosophical Biases.
Nativism: Themes of Racial Differences.
American Psychology and Racial Investigations.
Archives of Psychology and Racial Studies.
3. Psychometric Scientism.
How Significant Are Significant Differences?
Mental Tests.
Stanford-Binet Revisions.
Lewis Terman.
Black-White Mental Testing.
Children to Adult and Individual to Mass Testing.
Postwar Psychological Measurements.
The United States Indian Schools.
Mexican Americans and IQ Testing.
The Mulatto Hypotheses.
Reactions of Black Scholars and Communities.
Black Graduate Students Respond.
Intelligence Testing and the Courts.
Wechsler-Bellevue Scale.
Personality Testing of Minority Groups.
Race Studies and Anti-Semitism.
4. Psychology and Race.
Suspicious Statistical Shenanigans.
White Rats and Mazes.
Psychology and Eugenics.
Carnegie Station for Experimental Evolution.
Applied Eugenics and Euthenics.
Findings of the Research Committee.
Sterilization Laws.
"Degenerate" Families.
Eurocentrism: Cycle of Scientific Racism.
The Pioneer Fund.
Black Americans and Psychology.
II. PSYCHOLOGY AND PSYCHOLOGISTS.
5. Psychology of Survival and Education.
The Psychology of Survival.
Identification with the Slave Master.
Flight and Escape Reactions.
Aggressive Reactions.
The Emergence of Black Colleges.
Teaching Psychology in Black Colleges: Similarities, Not Differences.
Library and Research Facilities in Black Colleges.
6. Black Psychologists: Training, Employment, and Organizations.
Philanthropic Foundations.
Employment in the Black College.
Black Psychologists Organize.
Toward a Black Psychology.
Toward Traditional Psychology.
7. Production of Black Psychologists in America.
8. Francis Cecil Sumner: Father of Black American Psychologists.
III. CONCLUSION.
9. The Past Is Prologue.
The Myth of Mental Measurement.
Psychology and Politics.
Old Wine, New Bottles.
The Bell Curve: 'Round and 'Round We Go.
Appendices.
Bibliography.
Name Index.
Subject Index.