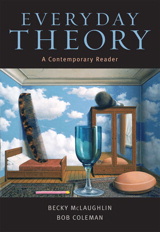 Description
Everyday Theory introduces students to theory and how it applies to everyday life. By making students aware of their role as theorists in their own right, the authors reduce students' anxiety level.
Table of Contents
This tentative table of contents is for early review purposes; the final version may or may not include all of the selections listed here. Each part concludes with "Questions to Consider."
Preface.
Introduction.
Why Everyday Theory?
What Is The Everyday?
What Is Theory?
How Do The Two Intersect?
Illustrating The Intersection.
How Do We Read Theory?
How Do We Understand Theory's Purpose?
Watching A Theorist At Work.
Reading Selections.
I. READING AND WRITING .
An Introduction.
Sartre, Jean-Paul: "Why Write?"
Poulet, Georges: "Phenomenology of Reading."
Barthes, Roland: "An Almost Obsessive Relation to Writing Instruments."
Culler, Jonathan: "Literary Competence."
Hayles, N. Katherine: "The Condition of Virtuality."
II. EDUCATION AND INSTITUTIONS.
An Introduction.
Geertz, Clifford: "Blurred Genres."
Derrida, Jacques: "The Principal of Reason."
Bourdieu, Pierre: "Introduction" to Distinction: A Social Critique of the Judgment of Taste.
Pratt, Mary Louise: "Humanities for the Future: Reflections on the Western Culture Debate at Stanford."
Rorty, Richard: "The Inspirational Value of Great Works of Literature."
III. MONEY AND POWER.
An Introduction.
Foucault, Michel: "Panopticism."
Fussell, Paul: "An Anatomy of the Classes."
Jameson, Fredric: "Postmodernism and Consumer Society."
Guillory, John: "Canonical and Noncanonical: The Current Debate."
Winterson, Jeanette: "Imagination and Reality."
IV. CULTURE AND ETHNICITY.
An Introduction.
Fanon, Frantz: "On National Culture."
Clifford, James: "Introduction: The Pure Products Go Crazy."
Hall, Stuart: "Cultural Identity and Diaspora."
Anzaldúa, Gloria: "Chicana Artists: Exploring Nepantla, el Lugar de la Frontera."
Bhabha, Homi: "Border Lives: The Art of the Present."
V. POLITICS AND RHETORIC.
An Introduction.
Baym, Nina: "Melodramas of Beset Manhood."
Knapp, Steven and Walter Benn Michaels: "Against Theory."
Said, Edward: "The Politics of Knowledge."
Fish, Stanley: "Rhetoric."
Mouffe, Chantal: "Feminism, Citizenship, and Radical Democratic Politics."
VI. ART AND ENTERTAINMENT.
An Introduction.
Sontag, Susan: "Against Interpretation."
Mulvey, Laura: "Fears, Fantasies, and the Male Unconscious or 'You Don't Know What is Happening, Do You, My Jones'?"
Baker, Houston: "Blues, Ideology, and Afro-American Literature."
Danto, Arthur C.: "Pop Art and Past Futures."
iek, Slavoj: "The Matrix: Or, The Two Sides of Perversion."
VII. DESIRE AND SEXUALITY.
An Introduction.
Johnson, Barbara: "The Critical Difference: BartheS/BalZac."
Sedgwick, Eve: From the "Introduction" to Between Men.
Deleuze, Gilles: "The Language of Sade and Masoch."
Salecl, Renata: "Love: Providence or Despair."
Irigaray, Luce: "I Love To You."
VIII. IDENTITY AND SPIRITUALITY.
An Introduction.
Lacan, Jacques: "The Mirror Stage."
Wittig, Monique: "One Is Not Born a Woman."
Bynum, Caroline W.: "The Female Body and Religious Practice in the Later Middle Ages."
Vernant, Jean-Pierre: "Dim Body, Dazzling Body."
Bellah, Robert: "Civil Religion in America."
IX. TECHNOLOGY AND PROGRESS.
An Introduction.
Burke, Kenneth: "Literature as Equipment for Living."
Kuhn, Thomas: "The Historical Structure of Scientific Discovery."
Greenblatt, Stephen: "Learning to Curse."
Haraway, Donna: "A Cyborg Manifesto."
Hochschild, Arlie R.: "From the Frying Pan into the Fire."
Appendix A: Alternate Table of Contents.
Appendix B: Foundational Texts.
Plato, The Republic, Book X.
Wordsworth, Preface to Lyrical Ballads.
Nietzsche, "On Truth and Lying in a Non-Moral Sense."
Freud, from The Interpretation of Dreams.
Saussure, from Course in General Linguistics.
Du Bois, "Criteria for Negro Art."
Woolf, from A Room of One's Own.
Ransom, "Criticism, Inc."
Glossary.