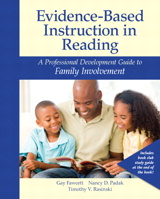 Description
Accessible and focused, this book offers dozens of easy-to-implement, research-based strategies teachers can use to get families involved in their child's literacy development.
Beginning with the most important research, this book translates proven family involvement techniques into workable strategies for fostering literacy development. An early chapter captures family involvement strategies that can be implemented at the classroom level—such as vocabulary development activities, read to your child routines, and a family involvement homework calendar. A follow-up chapter focuses on effective school-wide family involvement programs—from easy first steps to effective parent volunteer initiatives. Focused coverage includes discussion of high-impact assessment techniques, as well as conversation-starting questions that work with book clubs, professional learning communities, and professional development workshops.
Table of Contents
Series Introduction: Evidence-Based Instruction in Reading: A Professional Development Guide
The National Reading Panel Report
Professional Development in Literacy
Using the Books
Introduction to Family Involvement in Children's Reading
Until You Read to Me by Brod Bagert
Chapter 1
Family Involvement: What Does the Research Tell Us?
History of Family Involvement in Schools
Benefits of Family Involvement
Do Some Parents Just Not Care?
Respecting Family Literacies
Own Our Autobiographies
Conclusion
Book Club: Professional Development
Chapter 2
Strategies for Family Involvement at the Classroom Level
Criteria for Choosing Effective Home Literacy Activities
Parents as Role Models
The Importance of Conversations with Children
Vocabulary Development Activities
Read to Your Child
Taking Advantage of Time Together
Paired Reading
Partner Reading
Readers Theater
A Routine for Parental Help with Reading
Parental Involvement with Children's Writing
Family Involvement Homework Calendar
Conclusion
Book Club: Professional Development
Chapter 3
Strategies for Family Involvement at the School-Wide Level
Effective School-Wide Family Involvement Programs
Easy First Steps
Dealing with Challenging Parents
The Foundation of Effective School-Wide Family Involvement Programs
Choosing Content for Your School-Wide Family Involvement Program
Successful School-Wide Programs You Can "Borrow"
Effective Parent Volunteer Programs
Overcoming Obstacles to Family Involvement
Conclusion
Book Club: Professional Development
Chapter 4
Assessing Family Involvement Programs
Big Ideas of Assessment
Assessing the Level of Family Involvement
Assessing the Impact of Family Involvement
Assessing Your Volunteer Program
Parents' Self-Assessment
Conclusion
Book Club: Professional Development
Chapter 5
Resources for Teachers and Parents
Book Club: Professional Development
Appendix A
Book Club Ideas
Appendix B
Culturally Responsive Interview
Appendix C
Stages of Developmental Spelling
Appendix D
Role Play: Dealing with Challenging Parents
Appendix E
Assumptions about Family Involvement
Appendix F
Traveling Tales Instruction
Appendix G
Carousel Meeting Strategy
Appendix H
Revisiting Your Beliefs
Appendix I
Notes
References