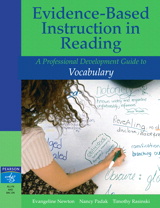 Description
Learn to assess and enhance your vocabulary skills!
Finally teachers have access to a professional development series, Evidence-Based Instruction in Reading, written specifically to guide them in sharpening their understanding of the five key components to Reading First—phonemic awareness, phonics, vocabulary, fluency, and comprehension. This book focuses on vocabulary, but each volume in the five-part series addresses one key component and presents friendly tips and strategies that teachers can take right into the classroom.
How to make Vocabulary work for you!
Each chapter offers recommendations for incorporating appropriate reading materials, fostering productive home–school connections, and promoting students' desire to learn to read and write.
Read current key research studies and findings and learn about their implications for classroom practice.
Discover how to evaluate your current practices and create concrete plans for change.
Start a learning community or book club and share your knowledge with colleagues.
Access useful resources and links to extend and enrich your own learning beyond the classroom.
Teachers rave about A Professional Development Guide to Vocabulary!
"This book is one that will be used from cover to cover. [T]he book is a wealth of actual activities to use for vocabulary growth. What teacher or staff development instructor wouldn't want all this information at their fingertips?"
—Cathy Taylor, Reading First literacy coach, Stewart County Elementary School, Lumpkin, GA
Also available in the Evidence-Based Instruction in Reading Series:
A Professional Development Guide to Phonemic Awareness
©2008 | ISBN: 0-205-45628-6
A Professional Development Guide to Phonics
©2008 | ISBN: 0-205-45630-8
A Professional Development Guide to Fluency
©2008 | ISBN: 0-205-45629-4
A Professional Development Guide to Comprehension
©2008 | ISBN: 0-205-45627-8
Table of Contents
Series Introduction
The National Reading Panel Report
Professional Development in Literacy
Using the Books
Overview of Book Contents
Introduction: Vocabulary
Chapter 1 Vocabulary Instruction: What Does Research Tell Us?
What is Vocabulary?
Why is Vocabulary Important?
How Do I Support Vocabulary Growth?
Professional Development Suggestions
Chapter 2 Instructional Strategies for Teaching Vocabulary
General/Guiding Principles for Instruction
Professional Development Suggestion
Strategy Suggestions
Vocabulary Materials and Programs
Professional Development Suggestions
Chapter 3 Assessing Vocabulary
Big Ideas
Evaluate Your Current Assessment Practices
Ideas for Assessment
Plans for Change
Chapter 4 Beyond Strategies and Beyond the Classroom
ELL Students and Vocabulary Development
Vocabulary Activities at Home
Reflection Protocol
Professional Development Suggestions
Vignette
Chapter 5 Resources for Teachers
Web Sites
Word Play
Word Roots/Word Lists
Make Your Own Word Games
Electronic Dictionaries and References
For Further Professional Reading
Teacher Resource Books and Articles
Classroom Activities
For Further Professional Reading
Children's Books
Word Play
Children's Dictionaries
References
Index