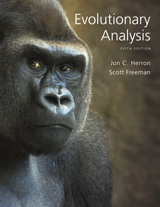 Description
For undergraduate courses in Evolution
By presenting evolutionary biology as a dynamic, ongoing research effort and organizing discussions around questions, this best-selling text helps students think like scientists as they learn about evolution. The authors convey the excitement and logic of evolutionary science by introducing principles through recent and classical studies, and by emphasizing real-world applications.
In the Fifth Edition, co-author Jon Herron takes the lead in streamlining and updating content to reflect key changes in the field. The design and art program have also been updated for enhanced clarity.
Table of Contents
I. INTRODUCTION
1. A Case for Evolutionary Thinking: Understanding HIV
2. The Evidence for Evolution
3. Darwinian Natural Selection
4. Reconstructing Evolutionary Trees
II. MECHANISMS OF EVOLUTIONARY CHANGE
5. Mutation and Genetic Variation
6. Mendelian Genetics in Populations I: Selection and Mutation as Mechanisms of Evolution
7. Mendelian Genetics in Populations II: Migration, Genetic Drift, and Nonrandom Mating
8. Evolution at Multiple Loci: Linkage and Sex
9. Evolution at Multiple Loci: Quantitative Genetics
III. ADAPTATION
10. Studying Adaptation: Evolutionary Analysis of Form and Function
11. Sexual Selection
12. Kin Selection and Social Behavior
13. Aging and Other Life History Characters
14. Evolution and Human Health
15. Phylogenomics and the Molecular Basis of Adaptation
IV. THE HISTORY OF LIFE
16. Mechanisms of Speciation
17. The Origins of Life and Precambrian Evolution
18. The Cambrian Explosion and Beyond
19. Development and Evolution
20. Human Evolution
Purchase Info ?
With CourseSmart eTextbooks and eResources, you save up to 60% off the price of new print textbooks, and can switch between studying online or offline to suit your needs.
Once you have purchased your eTextbooks and added them to your CourseSmart bookshelf, you can access them anytime, anywhere.
Buy Access
Evolutionary Analysis, CourseSmart eTextbook, 5th Edition
Format: Safari Book
$66.99 | ISBN-13: 978-0-321-70696-6