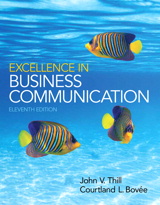 Description
For undergraduate business communication courses
Learn Business Communication Skills by Example

Students need to have excellent, effective, and practical business communication skills in order to succeed in today's business world. Excellence in Business Communication delivers an abundance of the most realistic model documents and tools, helping students learn business communication skills by example.
Technology, globalization, and other forces have dramatically changed the practice of business communication in recent years. The Eleventh Edition offers in-depth coverage of new and emerging media skills and concepts, as well as chapter-opening vignettes, figures, and communication cases that expose students to professional use of social media and other new technologies.
MyBCommLab for Excellence in Business Communication is a total learning package.
MyBCommLab is the online study tool that helps you transform business communication students into polished professionals, ready to tackle the rigors of today's business landscape. It helps students better prepare for class, quizzes, and exams–resulting in better performance in the course–and provides educators a dynamic set of tools for gauging individual and class progress.
This program will provide a better teaching and learning experience—for you and your students. Here's how:
Personalize Learning with MyBCommLab: Inspire the exchange of new ideas and foster intriguing discussions with the abundant resources found in MyBCommLab.
Help Students Apply Knowledge from the Text to the Real World: Cases give students the opportunity to solve real-world communication challenges.
Promote Active Learning and Stimulate Critical Thinking: Examples, exercises and activities help students practice vital skills and put knowledge to immediate use.
Offer the Latest Information on Today's Hottest Topics and Trends: In-depth coverage of new and emerging media skills and concepts, as well as chapter-opening vignettes, figures, and communication cases that expose students to professional use of social media and other new technologies.
Note: You are purchasing a standalone product; MyBCommLab does not come packaged with this content. If you would like to purchase both the physical text and MyBCommLab search for ISBN-10: 0133806871/ISBN-13: 9780133806878. That package includes ISBN-10: 0133544176/ISBN-13: 9780133544176 and ISBN-10: 0133545814/ISBN-13: 9780133545814.
MyBCommLab is not a self-paced technology and should only be purchased when required by an instructor.
Table of Contents
I. Understanding the Foundations of Business Communication
1. Achieving Success Through Effective Business Communication
2. Mastering Team Skills and Interpersonal Communication
3. Communicating in a World of Diversity
II. Applying the Three-Step Writing Process
4. Planning Business Messages
5. Writing Business Messages
6. Completing Business Messages
III. Crafting Brief Messages
7. Crafting Messages for Electronic and Social Media
8. Writing Routine and Positive Messages
9. Writing Negative Messages
10. Writing Persuasive Messages
IV. Preparing Reports and Oral Presentations
11. Planning Reports and Proposals
12. Writing Reports and Proposals
13. Completing Reports and Proposals
14. Designing and Delivering Oral and Online Presentations
V. Writing Employment Messages and Interviewing for Jobs
15. Building Careers and Writing Résumés
16. Applying and Interviewing for Employment
APPENDIX A. Format and Layout of Business Documents
APPENDIX B. Documentation of Report Sources
APPENDIX C. Correction Symbols
Handbook of Grammar, Mechanics, and Usage
This title is also sold in the various packages listed below. Before purchasing one of these packages, speak with your professor about which one will help you be successful in your course.
Package ISBN-13: 9780134117393
Includes this title packaged with:
Pearson MediaShare -- Valuepack Access Card
. . Pearson Education
2014 MyBCommLab with Pearson eText -- Access Card -- for Excellence in Business Communication, 11th Edition
John V. Thill, Courtland L. Bovee
$202.07 | Add to Cart
Purchase Info
Digital Choices ?
MyLab & Mastering with Pearson eText is a complete digital substitute for a print value pack at a lower price.
MyLab & Mastering ?
MyLab & Mastering products deliver customizable content and highly personalized study paths, responsive learning tools, and real-time evaluation and diagnostics. MyLab & Mastering products help move students toward the moment that matters most—the moment of true understanding and learning.
+ Other Options
Print Choices
Loose Leaf Version ?
Books a la Carte are less-expensive, loose-leaf versions of the same textbook.