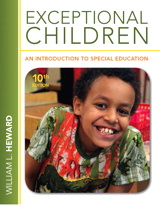 Description
Exceptional Children: An Introduction to Special Education has always been known for its innovation, strong research base and accessibility. The tenth edition has all of those strengths, but has a greater focus on highly effective, research-based practices that are described in a very step-by-step, applied manner. Heward presents an informative and responsible introduction to the professional practices, trends, and research that define contemporary special education while also conveying the diversity and excitement of this changing field. The book is for those teachers who will be professionals in the area of special education or those who are working with students that have exceptionalities.
Table of Contents
Chapter 1: The Purpose and Promise of Special Education
Chapter 2: Planning and Providing Special Education Services
Chapter 3: Collaborating with Parents and Families in a Culturally and Linguistically Diverse Society
Chapter 4: Intellectual Disabilities
Chapter 5: Learning Disabilities
Chapter 6: Emotional or Behavioral Disorders
Chapter 7: Autism Spectrum Disorders
Chapter 8: Communication Disorders
Chapter 9: Deafness and Hearing Loss
Chapter 10: Blindness and Low Vision
Chapter 11: Physical Disabilties, Health Impairments, and ADHD
Chapter 12: Low-Incidence Disabilities: Severe/Multiple Disabilities, Deaf-Blindness, and Traumatic Brain Injury
Chapter 13: Giftedness and Talent
Chapter 14: Early Childhood Special Education
Chapter 15: Transitioning to Adulthood
· Categorical chapters 4-13 roughly follow the same general format:
· Definition (and Classification)
· Identification and Assessment
· Characteristics
· Prevalence
· Causes
· Educational Approaches
· Educational Placement
This title is also sold in the various packages listed below. Before purchasing one of these packages, speak with your professor about which one will help you be successful in your course.
Purchase Info
Digital Choices ?
MyLab & Mastering with Pearson eText is a complete digital substitute for a print value pack at a lower price.
MyLab & Mastering ?
MyLab & Mastering products deliver customizable content and highly personalized study paths, responsive learning tools, and real-time evaluation and diagnostics. MyLab & Mastering products help move students toward the moment that matters most—the moment of true understanding and learning.
Print Choices
Loose Leaf Version ?
Books a la Carte are less-expensive, loose-leaf versions of the same textbook.