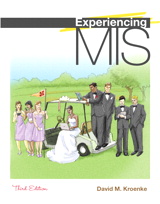 Description
This modular text shows readers how businesses use—and need—information systems to accomplish their goals, objectives, and competitive strategy.
Table of Contents
Part 1: MIS and You
Chapter 1: The Importance of MIS
CE 1: Improving Your Collaboration Skills
CE 2: Using Collaboration Information Systems
Chapter 2: Business Processes, Information, and Information Systems
CE 3: Information Systems and Decision Making
Chapter 3: Organizational Strategy, Information Systems, and Competitive Advantage
CE 4: Knowledge Management and Expert Systems
Part 2: Information Technology
Chapter 4: Hardware and Software
CE 5: Introduction to Microsoft Excel
CE 6: Preparing a Computer Budget Using Excel
Chapter 5: Database Processing
CE 7: Database Design
CE 8: Using Microsoft Access
CE 9: Using Excel and Access Together
Chapter 6: Data Communication
CE 10: Remote, Nomadic, and Mobile Systems
Part 3: Using IS for Competitive Strategy
Chapter 7: Enterprise Systems
CE 11: Functional Processes, Applications, and Systems
CE 12: Enterprise Resource Planning (ERP) Systems
Chapter 8: E-Commerce, Web 2.0, and Social Networking
CE 13: Supply Chain Management
CE 14: Processing Social Capital: Facebook, Twitter, and UGC
Chapter 9: Business Intelligence and Information Systems for Decision Making
CE 15: Database Marketing
CE 16: Reporting Systems and OLAP
CE 17: Geographic Information Systems
Part 4: Information Systems Management
Chapter 10: Information Systems Development
CE 18: Business Process Management
CE 19: Systems Development Project Management
Chapter 11: Information Systems Management
CE 20: Outsourcing
CE 21: Financing and Accounting for IS Projects
Chapter 12: Information Security Management
CE 22: International MIS


Purchase Info
ISBN-10: 0-13-215794-2
ISBN-13: 978-0-13-215794-0
Format: Alternate Binding
Digital Choices ?
MyLab & Mastering with Pearson eText is a complete digital substitute for a print value pack at a lower price.
MyLab & Mastering ?
MyLab & Mastering products deliver customizable content and highly personalized study paths, responsive learning tools, and real-time evaluation and diagnostics. MyLab & Mastering products help move students toward the moment that matters most—the moment of true understanding and learning.
+ Other Options