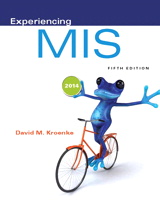 Description
For undergraduate Introduction to Management Information Systems courses.

Flexible modules for instructors, real-world lessons for students.

Help your students see why MIS is the most important course in the business school with Experiencing MIS. This modular text shows students how businesses use–and need–information systems to accomplish their goals, objectives, and competitive strategy.


Teaching and Learning Experience
This program will provide a better teaching and learning experience–for you and your students. Here's how:
Personalize learning with MyMISLab–the online homework, tutorial, and assessment program that fosters learning within and beyond the classroom.

Modular Approach offers flexibility for instructors in covering the material they want.

Focus on important themes of ethics, security, and other timely topics through text's Guides, designed to help students improve their skills as future business professionals.
Connect classroom knowledge to everyday life with illustrative cases and a number of exercises and other interactive features.
Keep content current to help keep your students up to date with the most recent events.
Note: You are purchasing a standalone product; MyMISLab does not come packaged with this content. If you would like to purchase both the physical text and MyMISLab search for ISBN-10: 0133806901/ISBN-13: 9780133806908. That package includes ISBN-10: 0133517047/ISBN-13: 9780133517040and ISBN-10: 013359467X/ISBN-13: 9780133594676.
MyMISLab is not a self-paced technology and should only be purchased when required by an instructor.
Table of Contents
I. MIS AND YOU
1. The Importance of MIS

CE 1. Collaboration Information Systems for Decision Making, Problem Solving, and Project Management

CE 2. Collaboration Information Systems for Student Projects

2. Business Processes, Information Systems, and Information
3. Organizational Strategy, Information Systems, and Competitive Advantage
II. INFORMATION TECHNOLOGY
4. Hardware and Software
CE 3. Mobile Systems
5. Database Processing
CE 4. Introduction to Microsoft Excel 2013
CE 5. Database Design
CE 6. Using Microsoft Access 2013
6. The Cloud
CE 7. Using Excel and Access Together
III. USING IS FOR COMPETITIVE ADVANTAGE
7. Organizations and Information Systems
CE 8. Network and Cloud Technology
CE 9. Enterprise Resource Planning (ERP) Systems
8. Social Media Information Systems
CE 10. Supply Chain Management
CE 11. Hyper-Social Organizations and Knowledge Management
9. Business Intelligence Systems
CE 12. Database Marketing
CE 13. Reporting Systems and OLAP
CE 14. Geographic Information Systems (GIS)
IV. INFORMATION SYSTEMS MANAGEMENT
10. Information Systems Development
CE 15. Systems Development Project Management
CE 16. Agile Development
11. Information Systems Management
CE 17. Business Process Management
12. Information Security Management
CE 18. International MIS
This title is also sold in the various packages listed below. Before purchasing one of these packages, speak with your professor about which one will help you be successful in your course.
Package ISBN-13: 9781269945042
Includes this title packaged with:
Exploring: Microsoft Excel 2013, Comprehensive
Mary Anne Poatsy, Keith Mulbery, Jason Davidson, Robert T. Grauer
MyLab IT in New Design for Kroenke and Grauer for Bryant University - ValuePack Card
Pearson Learning Solutions
$264.00 | Add to Cart