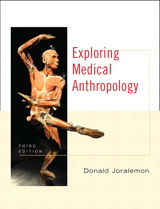 Description
This widely adopted text is a concise and engaging introduction to the field that presents competing theoretical perspectives in a balanced fashion, highlighting points of conflict and convergence.

Written in an accessible, jargon-free language, Exploring Medical Anthropology's concise length leaves room for instructors to supplement it with monographs of their own choosing. Concrete cases and the author's personal research experiences are used to explain four of the discipline's most important insights: 1) that biology and culture matter equally in the human experience of disease, 2) that the political economy is a primary epidemiological factor, 3) that ethnography is an essential tool to understand human suffering due to disease, and 4) that medical anthropology can help to alleviate human suffering. An extensive glossary facilitates student learning of concepts and terms, while a list of suggested readings at the end of each chapter and an extensive bibliography encourage further exploration.
Table of Contents
Preface
Chapter 1 What's So Cultural About Disease?
Culture in Medicine
Development of Medical Anthropology
Medical Anthropology Today
Summary: Placing Medical Anthropology Among the Social Sciences of Medicine
Suggested Readings
Notes
Chapter 2 Anthropological Questions and Methods in the Study of Sickness and Healing
Studying Shamans in Peru
Studying Medicine in the United States
Summary: The Anthropological Vision
Suggested Readings
Notes
Chapter 3: Recognizing Biological, Social and Cultural Interconnections: Evolutionary and Ecological Perspectives on a Cholera Epidemic
Thinking About Epidemics
History and Biology of Cholera
Epidemiological Accounts of Peru's Cholera Epidemic
Evolution and the Ecological Framework
Cholera and the Evolutionary Framework
Medical Anthropology Embraces the Ecological/Evolutionary Model
Suggested Readings
Notes
Chapter 4 Expanding the Vision of Medical Anthropology: Critical and Interpretive Views of the Cholera Epidemic
Political-Economy of Cholera
Political-Economic vs. Ecological/Evolutionary Perspectives
Interpretive View of Cholera
Taking a Broader, Inclusive Perspective
Suggested Readings
Notes
Chapter 5 The Global Petri Dish
Transitions
SARS: The First Global Epidemic of the 21st Century
One Health Ecology
Further Complications: The Threat of Bioterrorism
Suggested Readings
Notes
Chapter 6 Healers and the Healing Professions
Healing Roles: Organizing the Diversity
Authority of Healers
Authority in the Folk Health Sector: Position of Peruvian Curanderos
Authority in the Professional Health Care Sector: Case of Biomedicine
Challenges to Biomedical Authority
Authority of Biomedicine in Non-Western Countries
Conclusion
Suggested Readings
Notes
Chapter 7 Applying Medical Anthropology
Medical Anthropology in International Development: A Brief History
Work of Applied Medical Anthropologists in International Contexts
Applying Medical Anthropology in the United States
Between a Rock and a Hard Place: Applied Anthropology Under Attack
Personal Reflections
Suggested Readings
Notes
Chapter 8: Anthropology and Medical Ethics
Medical Ethics: A Comparative Framework
Medical Ethics Beyond Biomedicine
Development of Bioethics in the United States
Social Sciences and Bioethics
Social Science: Out of the Closet
Suggested Readings
Notes
Chapter 9: Body, Self and Biotechnologies
Cross-Cultural Views of the Self
The Stem Cell Debate
"Baby" Pictures
Rights, Death and the Autonomous Self
Conclusion
Suggested Readings
Notes
Chapter 10: A Look Back and a Glance Ahead
Advantages of Medical Anthropology
Thinking Anthropologically about HIV/AIDS
Future Directions in Medical Anthropology
Academic and Professional Career Paths Related to Medical Anthropology
Conclusion
Suggested Readings
Notes
Glossary
References Cited
Purchase Info ?
With CourseSmart eTextbooks and eResources, you save up to 60% off the price of new print textbooks, and can switch between studying online or offline to suit your needs.
Once you have purchased your eTextbooks and added them to your CourseSmart bookshelf, you can access them anytime, anywhere.
Buy Access
Exploring Medical Anthropology, CourseSmart eTextbook, 3rd Edition
Format: Safari Book
$18.99 | ISBN-13: 978-0-205-69353-5