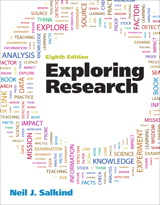 Description
Presents the basics of research in the social and behavioral sciences in an informative and student-friendly way.
Salkind's Exploring Research, 8th edition makes research methods accessible for students.
Exploring Research provides an introduction to research methods through a friendly, approachable writing style. Salkind describes how to collect and analyze data and provides thorough instruction on how to prepare and write a research proposal and manuscript. The text explores the use of electronic sources (the Internet) as a means to enhance research skills and includes discussions about scientific methods. The most common types of research models in the social and behavioral sciences are incorporated, including qualitative methods. Salkind covers the research process, problem selection, sampling and generalizability, as well as a discussion of the measurement process .
Teaching & Learning Experience
Personalize Learning - MySearchLab delivers proven results in helping students succeed, provides engaging experiences that personalize learning, and comes from a trusted partner with educational expertise and a deep commitment to helping students and instructors achieve their goals.

Improve Critical Thinking — "What You'll Learn about in This Chapter" helps students organize and understand the material to be covered within the chapter. "Exercises" and "Test Yourself" sections challenge students think about and discuss chapter topics and improve their problem-solving skills. Resources in the text and online help students master the process of writing a research paper.

Engage Students — Chapter objectives, chapter quizzes, Lab Manual, and eText within MySearchLab help to engage students in the material.

Explore Research — Discussions of the research process, problem selection, sampling and generalizability, and the measurement process make research exploration accessible to students. A lab manual is included in MySearchLab to help engage students in the research process.

Support Instructors — MyTest, PowerPoints, and an instructor's manual offer additional support for instructors.

Note: MySearchLab with eText does not come automatically packaged with this text. To purchase MySearchLab with eText, please visit: www.mysearchlab.com or you can purchase a valuepack of the text + MySearchLab with eText (at no additional cost). VP: 9780205239924
Table of Contents
IN THIS SECTION:
1.) BRIEF
2.) COMPREHENSIVE
---
BRIEF TABLE OF CONTENTS:
Preface
Chapter 1: The Role and Importance of Research
Chapter 2: The Research Process: Coming to Terms
Chapter 3A: Selecting a Problem and Reviewing the Research
Chapter 3B: Ethics: The Basic Principles
Chapter 4: Sampling and Generalizability
Chapter 5: Measurement, Reliability, and Validity
Chapter 6: Methods of Measuring Behavior
Chapter 7: Data Collection and Descriptive Statistics
Chapter 8: Introducing Inferential Statistics
Chapter 9: Nonexperimental Research: Descriptive and Correlational Methods
Chapter 10: Nonexperimental Research: Qualitative Methods
Chapter 11: Pre- and True Experimental Research Methods
Chapter 12: Quasi-Experimental Research: A Close Cousin to Experimental Research
Chapter 13: Writing a Research Proposal
Chapter 14: Writing A Research Manuscript
Appendix A: An Introduction to SPSS 16.x
Appendix B: Sample Data Set
References
Glossary
Index
This title is also sold in the various packages listed below. Before purchasing one of these packages, speak with your professor about which one will help you be successful in your course.
Package ISBN-13: 9780133782356
Includes this title packaged with:
What Every Student Should Know About Citing Sources with APA Documentation: Updated for APA Sixth Edition, 2nd Edition
Chalon E. Anderson, Amy T. Carrell, Jimmy L. Widdifield
MyLab Search with Pearson eText -- Valuepack Access Card
. . Pearson Education
$194.27 $184.56 | Add to Cart