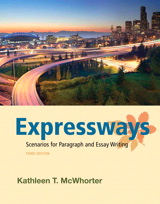 Description
This CourseSmart Sampler includes a selection of material from the full book for faculty to use in order to make a textbook selection for their course. If you need to see additional chapters before making a final decision, please contact your Pearson sales representative for a print copy.
Expressways: Scenarios for Paragraph and Essay Writing features an integrated reading-writing, critical thinking, and visual literacy approach to teaching academic, workplace, and everyday writing skills.
In addition to covering all of the fundamental topics at the paragraph-to-essay level (the writing process, paragraph and essay writing strategies, and grammar lessons), Kathleen McWhorter appeals to students by connecting the classroom to the real world using visual learning tools, realistic examples of successful writing through student models and high-interest readings, and abundant exercise sets. The text provides comprehensive and integrated coverage of the reading-writing connection, full instruction on the methods of development, editing exercises, collaborative activities, complete MyWritingLab integration with e-text, and a renewed focus on thinking critically and visual literacy.
Table of Contents
Part I Getting Started
CHAPTER 1 The Writing Process: An Overview
CHAPTER 2 The Active Reading Process
Part II Paragraph Writing Strategies
CHAPTER 3 Writing Topic Sentences
CHAPTER 4 Developing and Arranging Details
CHAPTER 5 Strategies for Revising
Part III Essay Writing Strategies
CHAPTER 6 Planning and Organizing Your Essay
CHAPTER 7 Drafting and Revising Essays
Part IV Methods of Development
CHAPTER 8 Narration
CHAPTER 9 Description
CHAPTER 10 Process
CHAPTER 11 Example
CHAPTER 12 Classification
CHAPTER 13 Definition
CHAPTER 14 Comparison and Contrast
CHAPTER 15 Cause and Effect
CHAPTER 16 Argument
PART V ACADEMIC WRITING STRATEGIES
CHAPTER 17 Using and Synthesizing Sources
CHAPTER 18 Writing Essay Exams and Taking
Part VI Read and Respond
Part VII Reviewing the Basics