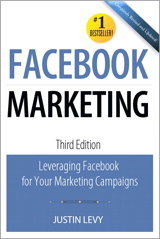 Description
The Easy, Step-by-Step Guide to Facebook Marketing—100% Updated for Facebook's Newest Features & Best Practices
Your best customers and prospects are on Facebook: more than 800,000,000 of them. Your business needs to be there, too: not just with a generic "page," but with a smart, low-cost marketing program that works. Facebook Marketing, Third Edition will help you plan that program, execute it, measure it, and optimize it. Two world-class social media marketers show you how to make the most of Facebook's most valuable new business features—including Facebook Messages, Deals, Places, Credits, Connect, mobile apps, and much more. This completely revamped new edition offers dozens of new tips and best practices for everything from advertising and analytics to promotion and privacy. Whether you're an entrepreneur, marketer, or PR pro, it will help you find and profit from your customers where they are right now: on Facebook!
You'll Learn How To:
• Get started fast with Facebook, even if you're new to it
• Develop winning Facebook marketing strategies
• Master new best practices for creating "best in class" Facebook pages
• Design Facebook ads that drive more clickthroughs at lower cost
• Reach customers outside Facebook with Facebook Connect and social plugins
• Use images and other media to personalize your presence and engage visitors
• Build thriving Facebook communities that promote loyalty and innovation
• Market to customers on the move via Facebook mobile apps
• Monitor what your customers are saying in real-time
• Protect your privacy—and your customers' privacy, too
• Use Facebook Credits social currency to attract new customers and promote product sampling
• Track your performance with Facebook Analytics
• Prepare to profit from tomorrow's Facebook trends and innovations
Table of Contents
Introduction 1
I Getting Started 19
1 Getting Around Facebook: The Basics 21
Getting Started 22
0–60 on Facebook in 11 Steps 22
Home Page News Feed and Ticker 33
Comments and Likes 35
Publisher Tool 35
Photos 36
Videos 38
Pages and Groups 39
Notes 40
Facebook Chat 40
Search 41
Managing Friends and Friend Lists 43
Messages 44
Account Settings 45
2 Addressing Privacy Concerns 47
The Two Faces of Privacy on Facebook 48
Single Facebook Profile 49
Two Different Facebook Profiles? Or Get a Page? 50
Not Doing Business on Facebook 51
Privacy Settings 51
Personal Privacy Settings 51
Extensive Profile Privacy Settings 57
Pages Privacy Settings 57
Group Privacy Settings 59
Facebook's Privacy Policy 60
Summary 63
3 Establishing a Corporate Presence 65
Personal or Professional? 66
Developing a Corporate Facebook Presence 67
Getting Started 68
Facebook Pages 69
Getting Started with Your Facebook Page 69
Apps for Pages 76
Notes and Your Blog 77
Events 79
What's Next 83
Promoting Your Facebook Page 84
Email Signature 84
Twitter 84
Facebook 85
Email Marketing 85
Company Website 86
Facebook Ads 87
Google AdWords 88
Other Facebook Page Promotion Ideas 88
Facebook Groups 89
Page or Group: Which One? 91
II Intermediate Marketing Skills 93
4 Facebook Advertising: How and Why You Should Be Using It 95
Common Reasons for an Ad to Be Rejected 97
Step-by-Step Guide to Creating an Ad 99
Analyzing Performance 107
Summary 110
5 Facebook Page Analytics: Tracking Your Success 111
Quantify and Improve Your Page's Performance 112
Inside Facebook Page Insights 112
The Users Section of Facebook Page Insights 114
The Interactions Section of Facebook Page Insights 117
Advanced Facebook Page Insights 119
Using Web Analytics to Measure Facebook Impact 120
6 Using Facebook to Develop Communities 121
Building a Community for Your Company, Product, or Service 123
Do Pages or Groups Create More Community? 124
How Does Community Build ROI? 125
Building Private Corporate Communities 126
Using Facebook as a Focus Group 126
Building Personal Networking Communities 127
Be Helpful 127
Connect Often 128
Be a Connector 128
Use Lists 128
How Corporations Benefit from Employees' Personal Social Networks 130
Building a Community Around a Hobby or Interest 130
Building Community Membership with Facebook Ads 133
Why Pages with Millions of Fans Still Might Need Ads 133
How to Get Affordable Fans and Group Members 134
How to Build Interaction Within Your Community 134
Upload Photos 135
Upload Videos 136
Ask Questions 136
Nurturing Your Community 139
How Do You Know Whether You're Doing a Good Job? 140
Should You Police Your Community? 142
Facebook and Social Media Monitoring 143
To Prevent Negativity, Nurture Positivity 143
Summary 143
III Getting the Most Out of Advanced Facebook Features 145
7 The Power of Local: Facebook Places and Deals 147
The Importance of Locally Oriented Online Marketing 148
How Does Facebook Check-in Deals Compare to Groupon? 149
Facebook Places 149
How Facebook Places Work 151
How to Claim Your Business as a Facebook Place 152
How to Create a Place 154
Businesses with Multiple Locations 154
Facebook Check-in Deals 156
How Do Facebook Users Find Deals? 156
What Kinds of Check-in Deals Can You Offer? 157
How Do You Create a Facebook Deal? 157
Deal Ideas 158
How Do You Prepare Your Biz for a Deal? 159
Endnotes 159
8 Socialize Your Website with Facebook Connect and Social Plug-ins 161
Adding the Like Button to Your Website 163
Adding the Send Button to Your Website 166
Adding a Like Box to Your Website 166
Adding Facebook Commenting to Your Website 167
Integrating Chat Using the Live Stream 168
Using Facebook for Your Website's Registration and Login System 170
Creating a Personalized Experience with Facebook Connect 172
Not Just for the Web 174
Summary 175
9 Facebook Credits: Social Currency and Your Business 177
What Are Facebook Credits? 178
How to Get Facebook Credits 178
Uses of Facebook Credits Beyond Games 179
Movies and Television 179
News Media and Facebook Credits 181
The Music Industry and Facebook Credits 182
Analytics for Facebook Credits 183
Takeaways 183
Endnotes 184
IV Role Models and Predictions 185
10 Best in Class Facebook Pages 187
Best Fan Interaction 188
I Wish I Were Diving 189
Vin Diesel 190
The Ellen DeGeneres Show 192
Best Use of Facebook Features 194
Spartan Race 194
Volkswagen 196
Barack Obama 198
Best Revenue and ROI 201
Rosehall Kennel 201
Baseball Roses 202
Lessons Learned from the "Best in Class" 204
11 What's Next for Facebook 207
Going Public 208
Acquisitions 210
Integrating More Professionalism and Control 210
The News Feed and EdgeRank 212
Facebook Versus Google 212
Increasing Ways to Connect 213
An Endless Rainbow of Options 214
Signing Off 215
Index 217
Purchase Info
ISBN-10: 0-13-277672-3
ISBN-13: 978-0-13-277672-1
Format: Safari PTG
This publication is not currently for sale.