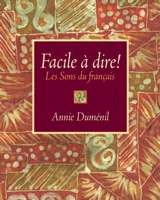 Table of Contents


Introduction.


1. La chaîne parlée.


2. Les voyelles: Généralités.


3. Les voyelles fermées.


4. Les voyelles ouvertes.


5. Les voyelles nasales.


6. Les semi-voyelles.


7. Les voyelles médiales.


8. Le <e> <<muet>>.


9. Les consonnes: Généralités.


10. La liaison.


11. Les liquides.


12. Les occlusives.


13. Les fricatives.


14. Les nasales.

This title is also sold in the various packages listed below. Before purchasing one of these packages, speak with your professor about which one will help you be successful in your course.
Package ISBN-13: 9780205028931
Includes this title packaged with:
Audio CDs
Annie Dumenil
Oxford French Penquin Dictionary
Penquin
$119.99 $113.99 | Add to Cart