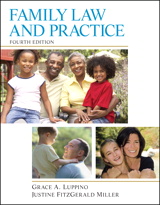 Description
For courses in Family Law in a wide variety of legal studies degree and certificate programs.
Family Law and Practice, Fourth Edition, combines the theoretical and practical aspects of family law, preparing students to enter the workplace thoroughly knowledgeable about both family law and the procedural law requirements of family law practice. An Instructor's Manual, PowerPoint lecture slides, and a Test Bank accompany this text.
Teaching and Learning Experience:
Comprehensive coverage that links theory, history, and practice.

Interesting, modern cases that reinforce important connections between theory and application.

Critical thinking and application of concepts that reinforce knowledge, understanding, and skill development in the area of family law and practice.
Table of Contents
1. Introduction to Family Law & Practice
INTRODUCTION TO PART ONE: FAMILY LAW
2. Marriage and Marriage Alternatives
3. Premarital and Post-marital Agreements
4. Divorce, Legal Separation, and Annulment
5. Alimony, Spousal Support, and Maintenance
6. Property and Debt Distribution
7. Child Custody, Visitation, and Rights of Third Parties
8. Child Support
9. Paternity and the Rights and Responsibilities of Unmarried Parents
10. Family Violence and State Intervention
11. Adoption and Surrogacy Contracts
12. The Effect of Foreclosure, Bankruptcy, and Tax Consequences of Dissolving the Family Unit
INTRODUCTION TO PART TWO: FAMILY PRACTICE
13. Family Law Ethics
14. The Client Interview
15. Initial Pleadings: Starting the Process
16. Pendente Lite Motions: Obtaining Temporary Relief
17. Discovery in the Electronic Age
18. Separation Agreements
19. Alternate Dispute Resolution and Trial
20. Post-Judgment Matters and Appeals
Appendix A: Arizona and California Premarital Agreement Acts
Appendix B: Alexander Rodriquez Petition for Dissolution of Marriage
Appendix C: Chris Brown Search Warrant and Affidavit
Appendix D: Bill Maher Palimony Complaint
Appendix E: David Voelkert Criminal Complaint
Appendix F: Guides for Distance Learning and Legal Research
Purchase Info ?
With CourseSmart eTextbooks and eResources, you save up to 60% off the price of new print textbooks, and can switch between studying online or offline to suit your needs.
Once you have purchased your eTextbooks and added them to your CourseSmart bookshelf, you can access them anytime, anywhere.
Buy Access
Family Law and Practice CourseSmart eTextbook, 4th Edition
Format: Safari Book
$67.99 | ISBN-13: 978-0-13-349533-1