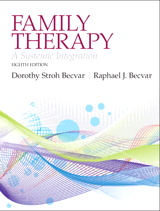 Description
A comprehensive, user-friendly guide to marriage and family therapy that takes a holistic view to look at people within the context of their environment.
Family Therapy helps students understand the process of shifting from an individual psychology paradigm to a cybernetic or systems paradigm. The text is divided into three sections: "The Systemic Framework," "The Practice of Family Therapy," and "The Systemic Practitioner," and it includes historical information, current developments, and ongoing debates.
Various family and developmental theories are examined. The family therapy models considered include psychodynamic, natural systems, experiential, structural, communications, strategic, behavioral/cognitive, and several post-modern approaches. Assessment, intervention, training and supervision, research, and epistemological challenges are discussed within the context of practice.
Upon completing this book readers will be able to:
Describe and compare various family therapy models

Discuss practical applications for different family and developmental theories

Review and assess unique family systems to determine the appropriate family therapy model

Understand how concepts with the same name differ in meaning at different levels (i.e. 1st order versus 2nd order cybernetics)
Table of Contents
Found in this Section:
1. Brief Table of Contents
2. Full Table of Contents
---
1. BRIEF TABLE OF CONTENTS
Preface
PART 1 THE SYSTEMIC FRAMEWORK
Chapter 1: Two Different Worldviews
Chapter 2: The Historical Perspective
Chapter 3: The Paradigmatic Shift of Systems Theory
Chapter 4: Postmodernism and Family Therapy
Chapter 5: The Family: Process, Development, and Context
PART 2 THE PRACTICE OF FAMILY THERAPY
Chapter 6: Psychodynamic Approaches
Chapter 7: Natural Systems Theory
Chapter 8: Experiential Approaches
Chapter 9: The Structural Approach
Chapter 10: Communication Approaches
Chapter 11: Strategic Approaches and the Milan Influence
Chapter 12: Behavioral/Cognitive Approaches
Chapter 13: Postmodern Approaches
PART 3 THE SYSTEMIC PRACTITIONER
Chapter 14: Family Assessment
Chapter 15: Therapeutic Intervention/Perturbation
Chapter 16: Training and Supervision
Chapter 17: Research in Family Therapy
Chapter 18: Epistemological Challenges: Thinking About Our Thinking
References
Name Index
Subject Index
---
2. FULL TABLE OF CONTENTS
Preface
PART 1 THE SYSTEMIC FRAMEWORK
Chapter 1: Two Different Worldviews
The Framework of Individual Psychology
The Framework of Systemic Family Therapy
Basic Concepts of Systems Theory and Cybernetics
Family Therapy or Relationship Therapy?
Summary
Practice Test
MySearchLab Connections
Chapter 2: The Historical Perspective
Planting the Seeds: The 1940s
Cybernetics
Development of Interdisciplinary Approaches
Gregory Bateson
Putting Down Roots: The 1950s
Bateson (Continued)
The Double-Bind Hypothesis
Nathan Ackerman
Murray Bowen
Carl Whitaker
Theodore Lidz
Lyman Wynne
Ivan Boszormenyi-Nagy
John Elderkin Bell
Christian F. Midelfort
Overview of the 1950s
The Plant Begins to Bud: The 1960s
Paradigm Shift
The MRI
Salvador Minuchin
Other Developments
Blossom Time: The 1970s
Psychodynamic Approaches
Natural Systems Theory
Experiential Approaches
Structural Approaches
Strategic Approaches
Communication Approaches
Behavioral Approaches
Gregory Bateson
Connecting and Integrating: The 1980s
Other Voices
The Limits of History
Controversy, Conflict, and Beyond: The 1990s
The Feminist Critique
Family Therapy and Family Medicine
Integration and Metaframeworks
Managed Care
The Twenty-First Century: Continuing Concerns and Emerging Trends
Summary
Practice Test
MySearchLab Connections
Chapter 3: The Paradigmatic Shift of Systems Theory
A Cybernetic Epistemology
Recursion
Feedback
Morphostasis/Morphogenesis
Rules and Boundaries
Openness/Closedness
Entropy/Negentropy
Equifinality/Equipotentiality
Communication and Information Processing
Relationship and Wholeness
Goals and Purposes
Cybernetics of Cybernetics
Wholeness and Self-Reference
Openness and Closedness
Autopoiesis
Structural Determinism
Structural Coupling and Nonpurposeful Drift
Epistemology of Participation
Reality as a Multiverse
Summary
Practice Test
MySearchLab Connections
Chapter 4: Postmodernism and Family Therapy
Postmodernism in Historical Perspective
Constructivism and Social Constructionism
Deconstruction and the Role of Language
The Role of the Individual
The Debates
First-Order versus Second-Order Therapy
Postmodernism and Cybernetics
Self-Referential Inconsistencies and Other Challenges
The Role of the Family
Summary
Practice Test
MySearchLab Connections
Chapter 5: The Family: Process, Development, and Context
Process Dimensions
Developmental Frameworks
Contextual Issues
Structural Variations
Cultural Variations/Cultural Competence
Other Diversity Issues
Ecological Considerations
Summary
Practice Test
MySearchLab Connections
PART 2 THE PRACTICE OF FAMILY THERAPY
Chapter 6: Psychodynamic Approaches
Ivan Boszormenyi-Nagy
Basic Concepts/Theoretical Constructs
Theory of Health/Normalcy
Therapeutic Strategies/Interventions
Systemic Consistency
Questions and Reflections from a Second-Order Cybernetics/Postmodern Perspective
Object Relations Family Therapy
Basic Concepts/Theoretical Constructs
Theory of Health/Normalcy
Therapeutic Strategies/Interventions
Systemic Consistency
Questions and Reflections from a Second-Order Cybernetics/Postmodern Perspective
Practice Test
MySearchLab Connections
Chapter 7: Natural Systems Theory
Murray Bowen
Basic Concepts/Theoretical Constructs
Theory of Health/Normalcy
Therapeutic Strategies/Interventions
Systemic Consistency
Questions and Reflections from a Second-Order Cybernetics/Postmodern Perspective
Practice Test
MySearchLab Connections
Chapter 8: Experiential Approaches
Carl Whitaker
Basic Concepts/Theoretical Constructs
Theory of Health/Normalcy
Therapeutic Strategies/Interventions
Systemic Consistency
Questions and Reflections from a Second-Order Cybernetics/Postmodern Perspective
Walter Kempler
Basic Concepts/Theoretical Constructs
Theory of Health/Normalcy
Therapeutic Strategies/Interventions
Systemic Consistency
Questions and Reflections from a Second-Order Cybernetics/Postmodern Perspective
Practice Test
MySearchLab Connections
Chapter 9: The Structural Approach
Basic Concepts/Theoretical Constructs
Structure
Subsystems
Boundaries
The Family over Time
Structural Maps of the Family
Theory of Health/Normalcy
Therapeutic Strategies/Interventions
Goals of Structural Therapy
The Process of Change
Systemic Consistency
Questions and Reflections from a Second-Order Cybernetics/Postmodern Perspective
Practice Test
MySearchLab Connections
Chapter 10: Communication Approaches
Early Researchers
Don D. Jackson
John H. Weakland
Paul Watzlawick
Review of Early Research
Basic Concepts/Theoretical Constructs
Theory of Health/Normalcy
Therapeutic Strategies/Interventions
Systemic Consistency
Questions and Reflections from a Second-Order Cybernetics/Postmodern Perspective
Virginia Satir
Basic Concepts/Theoretical Constructs
Theory of Health/Normalcy
Therapeutic Strategies/Interventions
Systemic Consistency
Questions and Reflections from a Second-Order Cybernetics/Postmodern Perspective
Practice Test
MySearchLab Connections
Chapter 11: Strategic Approaches and the Milan Influence
Basic Concepts/Theoretical Constructs
Theory of Health/Normalcy
Therapeutic Strategies/Interventions
Two Examples
Jay Haley
Milan Systemic/Strategic Therapy
Systemic Consistency
Questions and Reflections from a Second-Order Cybernetics/Postmodern Perspective
Practice Test
MySearchLab Connections
Chapter 12: Behavioral/Cognitive Approaches
Basic Concepts/Theoretical Constructs
Definitions
Theory of Health/Normalcy
Therapeutic Strategies/Interventions
Traditional Behavioral Strategies/Interventions
Cognitive–Behavioral Strategies/Interventions
Four Examples
Behavioral Parent Training
Behavioral Marital Therapy
Functional Family Therapy
Conjoint Sex Therapy
Systemic Consistency
Questions and Reflections from a Second-Order Cybernetics/Postmodern Perspective
Practice Test
MySearchLab Connections
Chapter 13: Postmodern Approaches
The Reflecting Team: Tom Andersen
Solution-Oriented Therapy: William O'Hanlon
Solution-Focused Therapy: Steve de Shazer
Externalization and Reauthoring Lives and Relationships: Michael White and David Epston
Therapeutic Conversations: Harlene Anderson and Harry Goolishian
Systemic Consistency
Questions and Reflections from a Second-Order Cybernetics/Postmodern Perspective
Practice Test
MySearchLab Connections
PART 3 THE SYSTEMIC PRACTITIONER
Chapter 14: Family Assessment
History
Family Assessment and Classification—General Models
Family Assessment and Classification—Scientific Approaches
Family Assessment and Classification—Some Concerns
Systemic Analysis/Multidimensional Assessment
Practice Test
MySearchLab Connections
Chapter 15: Therapeutic Intervention/Perturbation
A Theory of Change
Reframing
Paradoxical Interventions
Problem Formation/Resolution
Stochastic Processes
Perturber versus Change Agent
Meaningful Noise
Language and Worldviews
Stability and Change
Information and Perturbation
The Theory of Change, Meaningful Noise, and the Postmodernist Perspective
Ethical Issues
AAMFT Code of Ethics
Ethics and Second-Order Cybernetics
Practice Test
MySearchLab Connections
Chapter 16: Training and Supervision
Teaching and Learning the Systemic/Cybernetic Perspective
Supervision: Modalities, Myths, and Realities
Legal and Ethical Issues in Training and Supervision
Supervision from a Second-Order Cybernetics/Postmodern Perspective
Practice Test
MySearchLab Connections
Chapter 17: Research in Family Therapy
Family Therapy Research in the Logical Positivist Tradition
From Efficacy Research to Progress Research
Evidence Based Practice
A Second-Order Cybernetics/Postmodernist Consideration of Quantitative and Qualitative Research
Systemic Consistency
The New Physics
Implications for the Social Sciences
Implications of a Cybernetic Perspective
Practice Test
MySearchLab Connections
Chapter 18: Epistemological Challenges: Thinking About Our Thinking
Mind and Nature/Stories
Conceptual Pathologies
Problems Exist "Out There"
The Map Is the Territory
Defining Differences in Isolation
Independence/Autonomy and Unilateral Control
You Can Do Just One Thing
Control Is Possible
We Can Just Observe
The Paradox of Being a Systemic Therapist
Continuing Challenges
More on Teaching and Learning the Cybernetic Perspective
In Conclusion
Practice Test
MySearchLab Connections
References
Name Index
Subject Index