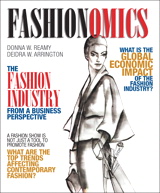 Description
For courses that integrate fashion, business, and economics; Fashion Merchandising; Survey of Fashion; Global Fashion Business.
Fashionomics gives students a fundamental understanding of economic principles and their direct application to the rational and decision-making of the fashion industry. From the Industrial Revolution to contemporary trends in textiles and fashion, this text explores business and economic theories through real-world, up-to-date examples applied to the fashion industry.
Table of Contents
1. A Fashion History
2. The Language of Fashion
3. Fashion Economics
4. Fashion: Big Business
5. Profit = Success
6. Competition, the Stock Market, and Financial Measurement
7. Government Policies Affect Fashion
8. Dominating Segments of the Fashion Industry
9. Domestic and International Fashion Consumers
10. The Economic Impact of International Fashion Centers
11. International Fashion Economics
12. Trends in Fashionomics
Purchase Info ?
With CourseSmart eTextbooks and eResources, you save up to 60% off the price of new print textbooks, and can switch between studying online or offline to suit your needs.
Once you have purchased your eTextbooks and added them to your CourseSmart bookshelf, you can access them anytime, anywhere.
Buy Access
Fashionomics, CourseSmart eTextbook
Format: Safari Book
$30.99 | ISBN-13: 978-0-13-267227-6