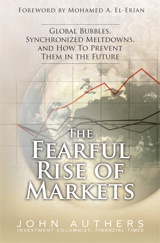 Description
This is the Safari online edition of the printed book.
"This enjoyable, fast-moving book is concise, relevant, and perceptive. My bottom line is a simple one: This book should be read by all those interested in the way markets operate, be they investors, analysts, or policy makers."
From the Foreword by Mohamed A. El-Erian, CEO and co-CIO of PIMCO, and author of When Markets Collide
"This book is a must-read for anyone concerned about how we can avoid recurring debt-induced busts in the years ahead, or anyone who wonders how to invest if (when!) the crisis returns. Authers' insights on the global financial crisis are profound."
Robert D. Arnott, Chairman, Research Affiliates, LLC, and author of The Fundamental Index: A Better Way to Invest
"This book illustrates the dangers to investors who fail to recognize that global asset markets have become more synchronized over time. In a crowded field of works on the financial crisis, Authers' work is unique in both its insight and style."
Robert R. Johnson, Ph.D., CFA, Senior Managing Director of the CFA Institute
"John Authers has combined his journalistically honed FT skills with great insights. Serious investors and policymakers should read this book."
David R. Kotok, Chairman and Chief Investment Officer of Cumberland Advisors
"John masterfully drives a stake through the myth of global economic decoupling one chapter and example at a time. A must-read in today's economy."
Vitaliy Katsenelson, Director of Research at Investment Management Associates, Inc, author of Active Value Investing: Making Money in Range-Bound Markets
Are we barreling toward another massive global financial catastrophe?
How can so many bubbles form all at once? Why are so many "disconnected" markets now capable of collapsing in unison? In this remarkably readable book, award-winning Financial Times columnist John Authers takes on these critical questions and offers deeply sobering answers.
Authers reveals how the first truly global super bubble was inflated--and might now be inflating again. He illuminates the multiple roots of repeated financial crises: a massive shift in investing power from individuals to big institutions; the migration of key decisions from banks to capital markets; the wholesale financialization of many asset classes; and fundamental failures of both theory and policy.
The Fearful Rise of Markets presents a truly global view, avoiding oversimplifications and ideology as it outlines how we got here and where we stand. Even more valuable, it offers realistic solutions--for decision-makers who want to prevent disaster and investors who want to survive it.
• The herd grows ever larger--and more dangerous
How institutional investing, indexing, and efficient markets theory promote herding
• Cheap money and irrational exuberance
Super fuel for super bubbles
• Too big to fail: the whole story of moral hazard
Banks, hedge funds, and beyond
• Danger signs of the next bubble
Forex, equity, credit, and commodity markets move once more in alignment
Table of Contents
Acknowledments ix
About the Author xii
Foreword xiii
Timeline xvi
Chapter 1: The Fearful Rise of Markets 1
Part I: The Rise
Chapter 2: Investment Becomes an Industry 9
Chapter 3: Indexes and Efficient Markets 16
Chapter 4: Money Markets Supplant Banks 25
Chapter 5: From Gold Standard to Oil Standard 32
Chapter 6: Emerging Markets 40
Chapter 7 Junk Bonds 48
Chapter 8: The Carry Trade 55
Chapter 9: Foreign Exchange 62
Chapter 10: Irrational Exuberance 69
Chapter 11: Banks Too Big to Fail 76
Chapter 12: Hedge Funds 83
Chapter 13: Dot Coms and Cheap Money 90
Chapter 14: BRICs 97
Chapter 15: Commodities 104
Chapter 16: Credit 112
Part II: The Fall
Chapter 17: Ending the Great Moderation 120
Chapter 18: Quant Funds 127
Chapter 19: Trust 133
Chapter 20: Bank Runs 139
Chapter 21: Bastille Day: Reflexive Markets 145
Chapter 22: Lessons from Lehman 152
Chapter 23: Politics and Institutions 158
Chapter 24: The Paradox of Diversification 163
Part III: The Fearful Rise
Chapter 25: Decoupling 171
Chapter 26: Banks Bounce 179
Chapter 27: A New Bubble? 186
Conclusion: 2010 and After 194
Notes 202
Bibliography 215
Index 222
Purchase Info
ISBN-10: 0-13-138816-9
ISBN-13: 978-0-13-138816-1
Format: Safari PTG
This publication is not currently for sale.