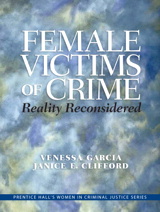 Description
For courses in Victims of Crime; Victimology, Women, Crime and Justice; Women's Studies; and Sociology of Gender.
Taking a sociological approach, this reader addresses the diverse array of crimes against women and offers a compilation of research on this often minimized topic. Rich in conceptualization and theory, these readings tackle topics from the victim's perspective and include media images, legal analysis, and official statistics. Material is presented within historical, legal, and social contexts so readers get a comprehensive understanding of female victimization. Throughout the collection, the causes of female victimization are examined, the responses from the criminal justice system are considered and the consequences for society are revealed.
Table of Contents
Foreward

Roslyn Muraskin

Acknowledgements

INTRODUCTION The Gendered Nature of Victimization

Venessa Garcia

Janice E. Clifford

PART 1 Doing Gender: A Historical & Social Context

CHAPTER 1 Cultural Images–Media Images: "Doing Culture" and Victim Blaming of Female Crime Victims

Venessa Garcia

Erica J. Schweikert

CHAPTER 2 Becoming Victims, Becoming Citizens: A Brief History of Gender-Motivated Violence in the U.S. Law

Melissa S. Fry

CHAPTER 3 Women and Victimization: Constructing Outcomes

Dennis R. Brewster

Philip D. Holley

CHAPTER 4 The Measurement, Definition, and Reporting of Female Victimization

Janice E. Clifford

John P. Jarvis

PART 2 Gendered Crimes: The Context of Female Victimization

CHAPTER 5 Leading Lethal Lives? Variations in the Structure, Context, and Cultural Response of Female Homicide Victims

Wendy Regoeczi

Terance Miethe

CHAPTER 6 The Impact of Gender, Race, and Class Discrimination on Femicide Rates

Jo-Ann Della Giustina

CHAPTER 7 Rape Myths: Impacts on Victims of Rape

Heather Melton

CHAPTER 8 Domestic Violence: Overview of Theoretical Etiology, Psychological Impact and Interventions

Sharon Boyd-Jackson

CHAPTER 9 Are There Gender Differences in Workplace Violence Victimization? Sometimes Yes and Sometimes No

Shannon Santana

Bonnie Fisher

CHAPTER 10 Cyberbullying and Online Harassment: Reconceptualizing the Victimization of Adolescent Girls

Amanda Burgess-Proctor

Justin Patchin

Sameer Hinduja

PART 3 Societal and Criminal Justice Response to Female Victimization

CHAPTER 11 A Sheltered Life: Observations on a Domestic Violence Shelter

Angela Moe

CHAPTER 12 In Their Own Words: Shelter Residents' Experiences with Police

Gina Robertiello

CHAPTER 13 I Don't Think a Cop Has Ever Asked Me if I Was OK": Battered Women's Experiences with Police Intervention

Hillary Potter

CHAPTER 14 The Gendered Paradox of Victimization and Agency in Protection Order Filings

Alesha Durfee

CHAPTER 15 Misdemeanor Domestic Violence Cases in the Courts: A Detailed Description of the Cases

Joanne Belknap

Jennifer L. Hartman

Victoria L. Lippen

CHAPTER 16 The Victimization Histories of Women Prisoners in Oklahoma

Susan F. Sharp

CHAPTER 17 The Criminalization of Victimization of Female Offenders and Emerging Correctional Responses

Patrick McManimon
Purchase Info ?
With CourseSmart eTextbooks and eResources, you save up to 60% off the price of new print textbooks, and can switch between studying online or offline to suit your needs.
Once you have purchased your eTextbooks and added them to your CourseSmart bookshelf, you can access them anytime, anywhere.
Buy Access
Female Victims of Crime: Reality Reconsidered, CourseSmart eTextbook
Format: Safari Book
$37.00 | ISBN-13: 978-0-13-504336-3