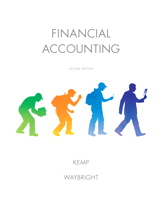 Description
Understanding financial accounting as the language of business.

Once readers see that accounting is the language of business, they are on their way to academic and professional success. Financial Accounting translates the essentials of accounting to readers so they understand why and when financially sound decisions are made in business today.
Table of Contents
Chapter 1: Business, Accounting, and You
Chapter 2: Analyzing and Recording Business Transactions
Chapter 3: Adjusting and Closing Entries
Chapter 4: Accounting for a Merchandising Business
Chapter 5: Inventory
Chapter 6: Ethics, Internal Control, and IFRS
Chapter 7: Cash and Receivables
Chapter 8: Long-Term and Other Assets
Chapter 9: Current Liabilities and Long-Term Debt
Chapter 10: Corporations: Paid-In Capital and Retained Earnings
Chapter 11: The Statement of Cash Flows
Chapter 12: Financial Statement Analysis
Appendix A: Columbia Sportswear Company® 2008 Annual Report to Shareholders
Appendix B: Time Value of Money–Future and Present Value Concepts


Purchase Info
ISBN-10: 0-13-277158-6
ISBN-13: 978-0-13-277158-0
Format: Alternate Binding
Digital Choices ?
MyLab & Mastering with Pearson eText is a complete digital substitute for a print value pack at a lower price.
MyLab & Mastering ?
MyLab & Mastering products deliver customizable content and highly personalized study paths, responsive learning tools, and real-time evaluation and diagnostics. MyLab & Mastering products help move students toward the moment that matters most—the moment of true understanding and learning.
+ Other Options