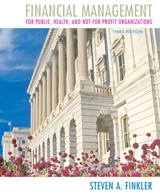 Description
For introductory courses in financial and managerial accounting in the areas of government or public policy and management, not-for-profit management, and health policy and management.
One of the few texts that addresses financial and managerial accounting within the three major areas of the public sector.
Financial Management for Public, Health and Not-for-Profit provides the fundamentals of financial management for those pursuing careers within the public, health and not-for-profit fields. With a unique presentation that explains the rules specific to the public sector, this book outlines the framework for students to access and apply financial information more effectively.
The latest edition of this text has been updated thoroughly with many additional homework problems and cases.
Table of Contents
Preface
Acknowledgment
About the Author
I. INTRODUCTION: SETTING THE STAGE.
1. Introduction to Financial Management.
II. PLANNING
2. Planning for Success: Budgeting.
3. Additional Budgeting Concepts.
4. Understanding Costs.
5. Capital Budgeting.
6. Long-Term Financing.
III. IMPLEMENTATION AND CONTROLLING RESULTS.
7. Managing Short-Term Resource and Obligations
8. Accountability and Control.
IV. REPORTING RESULTS.
9. Taking Stock of Where You Are: The Balance Sheet.
10. Reporting the Results of Operations: The Activity and Cash Flow Statements.
11. Unique Aspects of Accounting for Health Care and Not-for-Profit Organizations.
12. Unique Aspects of Accounting for State and Local Governments.
13. Unique Aspects of Accounting for State and Local Governments — Part II: Reporting Financial Results
V. FINANCIAL ANALYSIS.
12. Financial Statement Analysis.
13. Unique Aspects of Accounting for State and Local Governments
Index