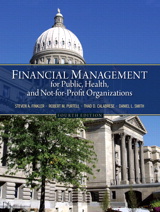 Description
One of the few texts that addresses financial and managerial accounting within the three major areas of the public sector.
Financial Management for Public, Health, and Not-for-Profit provides the fundamentals of financial management for those pursuing careers within the public, health and not-for-profit fields. With a unique presentation that explains the rules specific to the public sector, this book outlines the framework for readers to access and apply financial information more effectively.
Table of Contents
Part I: Introduction: Setting the Stage
Chapter 1: Introduction to Financial Management
Part II: Planning
Chapter 2: Planning for Success: Budgeting
Chapter 3: Additional Budgeting Concepts
Chapter 4: Understanding Costs
Chapter 5: Capital Budgeting
Chapter 6: Long-Term Financing
Part III: Implementation and Controlling Results
Chapter 7: Managing Short-Term Resources and Obligations
Chapter 8: Accountability and Control
Part IV: Case Studies
Chapter 9: Managerial Finance Case Studies
Part V: Reporting Results
Chapter 10: Taking Stock of Where You Are: The Balance Sheet
Chapter 11: Reporting the Results of Operations: The Activity and Cash Flow Statements
Chapter 12: Unique Aspects of Accounting for Not-for-Profit and Health Care Organizations
Chapter 13: Unique Aspects of Accounting for State and Local Governments–Part I: The Recording Process
Chapter 14: Unique Aspects of Accounting for State and Local Governments–Part II: Reporting Financial Results
Part VI: Financial Analysis
Chapter 15: Financial Statement Analysis
Chapter 16: Financial Condition Analysis
These online resources are available at no cost.
Companion Website for Financial Management for Public, Health, and Not-for-Profit Organizations, 4th Edition