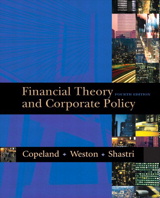 Table of Contents
I. FINANCIAL THEORY.
1. Introduction to Capital Markets, Consumption and Investment.
2. Investment Decisions: The Certainty Case.
3. Theory of Choice Under Uncertainty: Utility Theory.
4. State-Preference Theory.
5. Objects of Choice.
6. Market Equilibrium: CAPM and APT.
7. Pricing Contingent Claims: Option Price Theory and Evidence.
8. Futures Contracts and Markets - Term Structure - Cox, Ingersoll, Ross.
9. Multiperiod Aspects of Financial Theory - Real Options - Investment.
10. Efficient Capital Markets: Theory.
11. Efficient Capital Market: Evidence.
12. Information Asymmetry: Agency Cost Theory and Signaling.
II. CORPORATE POLICY.
13. The Role of the CFO and Performance Measurement.
14. Valuation and Tax Policy.
15. Capital Structure.
16. Dividend Policy.
17. Applied Issues in Corporate Finance.
18. External Investment Decisions.
19. International Finance: Theory and Evidence.
20. Open-Ended Issues for Research.
Enhance your learning experience with text-specific study materials.
This title is also sold in the various packages listed below. Before purchasing one of these packages, speak with your professor about which one will help you be successful in your course.
Package ISBN-13: 9780321280176
Includes this title packaged with:
Student Solutions Manual for Financial Theory and Corporate Policy, 4th Edition
Thomas E. Copeland, J. Fred Weston, Kuldeep Shastri
$168.00 $159.60 | Add to Cart