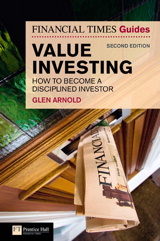 Description
'Glen Arnold makes complex investment concepts understandable. He explains what the masters of the investment world have done to achieve their status.'
David Shapiro, Stamford Associates
'An excellent intorduction to value investing, some of its most famous practitioners and the investments that made them rich.'
Mark Wallace, Rothschild
'In an age of turbulence, reading this book is as good as an inoculation against fads and infatuation with over-trading.'
Robin Woodbine Parish, Chairman of the El Oro and Exploration company.plc
What are the key principles that have served great investors for over half a century?
Is there anything that we can learn from those investors who have displayed an enviable performance on the world's stock markets?
In this groundbreaking book, bestselling author Glen Arnold addresses just these questions. He provides a set of guidelines which join value principles and growth attributes with the philosophies of the world's most famous investors.
Originally published as Valuegrowth Investing, this new edition has been updated throughout. The Financial Times Guide to Value Investing conveys fundamental concepts, provides practical methods and soffers sound reasoning to guide investment selections.
The Financial Times Guide to Value Investing:
Describes the proven investing philosophies of iconic investors including Warren Buffett, Peter Lynch and Benjamin Graham
Shows what ordinary investors should focus on when looking to invest
Provides tools for analysing key investment factors
Delivers a coherent investment strategy today for growth tomorrow
Proves that great investing requires great principles
Table of Contents
Table of Contents
Part One
INVESTMENT PHILOSOPHIES


1. Peter Lynch's niche investing
2. John Neff's sophisticated low price-earning ratio investing
3. Benjamin Graham: The father of modern security analysis
4. Benjamin Graham's three forms of value investing
5. Philip Fisher's bonanza investing
6. Warren Buffett's and Charles Munger's business perspective- Investing - Part 1
7. Warren Buffett's and Charles Munger's business perspective- Investing - Part 2
Part Two
THE VALUEGROWTH METHOD
8. The valuegrowth investor
9. The analysis of industries
10. Competitive resource analysis
11. Glossary