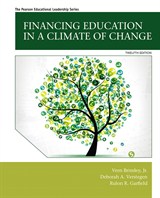 Description
This new edition of the classic text in the field of school finance retains the practical tone and superior presentation that made the previous editions best sellers, while presenting the most up-to-date information and material available on key subjects. Here readers get a firm, balanced look of all facets of financing education, clarified and reinforced through numerous clear tables, figures, and key concept lists, and a tone and presentation that illustrates even the most difficult concepts. The new Twelfth Edition of Financing Education in a Climate of Change includes information on hot button topics such as the economics of education, recent court decisions 50-state comparison tables, the Common Core State Standards, and the ongoing debate about school vouchers, tax credits, and charter schools.
Table of Contents
Chapter 1 The Economics of Education
Education as Human Capital
Creation of Wealth and Education
Education: An Important Industry
A Public-Sector Responsibility
Economics and Social Progress
Economic Benefits of Education
Noneconomic Benefits of Education
Taxation and Education
Cost-Quality Relationship in Education
Chapter 2 The Need for Adequate Funds
Societal Impact on Educational Needs
Education Deserves High Priority
The Public Wants Good Schools
The Increasing Costs of Education
Demographic and Social Influences
The Consequences of Not Education People Adequately
Society Suffers the Effects of Poor Education
What is the Cost of an Adequate Education?
Chapter 3 Financing Education Equitably
Inequalities in Financing Education
Equity: An Objective of School Finance Reform
Equity at the School Level
Measures of School District Wealth
Historical Influences on Equity
The Equalization Principal
Improving State Equalization Practices
Foundation Program Variations
The Impact of Average Daily Attendance on Equity
The Changing Climate and Current School Finance Practices
Chapter 4 Patterns for School Finance Systems
Developing Patterns
Determining the Best Finance Plan
Full State Funding
District Power Equalization
Property Reassessment and Local District Revenues
Emphasis on Weighting Factors
Principal Types of Weightings
Chapter 5 Sources of Revenue
The Taxation System
Education- Financed by Government
Characteristics of a Good Tax System
Taxes for Education
Income Tax
Sales Tax
Property Tax
Excise Tax
Severance Tax
Other Funding Sources
Potential New Taxes
Chapter 6 Eroding Local Control
Changing Rural-Urban Influence on Education
Basic School District Administrative Units
The Administration of Local School Districts
Advantages of Local Control
Fiscal Independence of School Districts
Trends in Local Taxation Practices
Measure of Local Taxpaying Ability
Local, State, and Federal Tax Responsibility
Chapter 7 Education: A State Function
Early Development of State Responsibility
Development of Decentralized Educational Systems
Development of School Finance Policies
Developmental Stages of School Finance
The Varying State Programs
State Ability to Support Education
Chapter 8 Federal Interest in Education
Federalism
Historical Role of the Federal Government
U.S. Department of Education
Constitutional Role
Block Grants, Categorical Aid, and General Aid
Federal Expenditures
Fiscal Advantages and Disadvantages
Increased Government Service
The Future of Federal Aid to Education
Chapter 9 The Influence and Climate of the Courts
Three Waves of School Finance Litigation
The First Wave of School Finance Litigation
The Second Wave of School Finance Litigation
The Third Wave of School Finance Litigation: A Shift from Equity to Adequacy
Second-Generation Adequacy Cases
Impact of School Finance Litigation over Time
Pressure for Reform
Finance Reform or Tax Reduction?
Court Decision Guidelines
Chapter 10 Public Funds and Nonpublic Schools
The Law and Church-State Relations
Educational Choice
Controversy Not Solved
Chapter 11 Financing School Facilities
Early Capital-Outlay Programs
The Need
Current Capital-Outlay Rulings
State Support
Equity in Financing Educational Facilities
The Federal Government and Capital Outlays
Capital-Outlay Finance Plans
School Bonding Practices
Other Alternatives
Impact Fees
Chapter 12 Administering the District and School Budget
Evolution of Budgetary Practices
Development of a Systems Approach to Budgeting
District and School Budgetary Approaches
District-Level Budgetary Practices
Administering the District Budget
School/District Coordination
Budgeting at the School Level
Challenge of Leadership
Chapter 13 Accounting and Auditing
The School Accounting System
The Changing Accounting Environment
Comprehensive Annual Financial Report
Characteristics of Governmental (Fund) Accounting
Encumbrance Accounting
Cost Accounting
Accrual Accounting
Receiving and Depositing Funds
Expending School Funds
Auditing
Protecting School Funds
Chapter 14 Business Aspects of the School Community
Increased Safety Hazards
The Business Office
Supplies and Equipment
Purchasing
Supply Management
Risk Management
Transportation
School Food Services
Chapter 15 Human Resources and School Finance
The Expanded Role of Human Resources Administration
Teacher Compensation
Certification
Pay-for-Performance-- Merit Pay
Additional Issues
Teachers and School Finance
The Changing Assignments of Teachers
Administrative and Supervisory Salaries
Noncertified Personnel Salaries
Payroll Policies and Procedures
Government Influence
Chapter 16 The Road Ahead in School Finance
The Past as Prologue
The Continuing Climate of Change
Investments in Education
Improvements in Education
The Future of Public School Finance
Unresolved Issues
Some Characteristics of Educational Structure
School Finance Goals
The Challenge
This title is also sold in the various packages listed below. Before purchasing one of these packages, speak with your professor about which one will help you be successful in your course.
Package ISBN-13: 9780134590226
Includes this title packaged with:
School Law and the Public Schools: A Practical Guide for Educational Leaders, 6th Edition
Nathan L. Essex
$319.73 $303.74 | Add to Cart