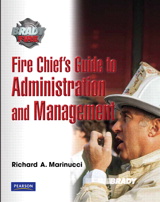 Description
Organized into 12 chapters with helpful appendices to assist Fire service administrators in focusing on key issues for success. A veteran Chief himself, the author provides case studies and helpful management principles, along with feedback from industry leaders from across the country who provide practicing officials and management candidates with practical strategies and insight.
Table of Contents
Table of Contents
1. Introduction
2. Politics
3. Human Resource Management
4. Labor Relations
5. Change Management
6. Emergency Response
7. Routine Issues
8. Marketing, Media Relations, and Customer Relations
9. Finance, Budgeting, and Purchasing
10. Ethics
11. Technology
12. Self-development
Purchase Info ?
With CourseSmart eTextbooks and eResources, you save up to 60% off the price of new print textbooks, and can switch between studying online or offline to suit your needs.
Once you have purchased your eTextbooks and added them to your CourseSmart bookshelf, you can access them anytime, anywhere.
Buy Access
Fire Chief's Guide for Administration and Management, CourseSmart eTextbook
Format: Safari Book
$28.99 | ISBN-13: 978-0-13-506779-6