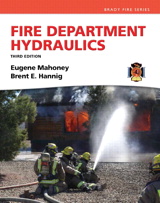 Description
For courses in fire protection hydraulics, water supply, and fire technology; and for working fire department professionals studying to become drivers, operators, or engineers.
Now in full color throughout, this extensively updated text gives students a complete foundation in fire department hydraulics, explaining how and why water is discharged from nozzles at the correct pressures to effectively fight fires. One step at a time, it clearly explains key concepts including the weight of water, friction loss within hoselines, characteristics of municipal water supplies, delivery of water to handlines and master streams, and much more. This edition's many improvements include: new full color diagrams, tables and pictures; new safety alerts based on NFFF's initiatives; coverage of new tank shapes, containers, hoses, testing, and deck gun calculations; more effective organization; and extensive new web-based study resources.
Table of Contents
1. Principles of Fire Department Hydraulics
2. Water Tanks and Hose Capacity
3. Water Supply and Testing Procedures
4. Fire Streams
5. Discharge
6. Friction Loss Principles and Application
7. Required Pump Discharge Pressure
8. Unusual and Complex Problems
9. Pumps, Pump Accessories, and Drafting Operations
10. Relay Operations
11. Fire Ground Hydraulics
Glossary
Abbreviations
Summary of Formulas
Square Roots Table
Answers to Tests
Index
Purchase Info ?
With CourseSmart eTextbooks and eResources, you save up to 60% off the price of new print textbooks, and can switch between studying online or offline to suit your needs.
Once you have purchased your eTextbooks and added them to your CourseSmart bookshelf, you can access them anytime, anywhere.
Buy Access
Fire Department Hydraulics, CourseSmart eTextbook, 3rd Edition
Format: Safari Book
$41.99 | ISBN-13: 978-0-13-262386-5