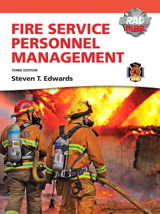 Description
Fire Service Personnel Management is written with basic public personnel management concepts and incorporates fire service applications and examples throughout, while serving as both a successful text in the classroom and as an excellent resource for promotional officer candidates. Updated topics include: fire service personnel development, professional qualifications, recruitment, and diversity issues. The book is a top-notch resource for promotional officer candidates and current managers in the fire service.
Table of Contents
Chapter 1 Overview of Personnel Management
Chapter 2 Workforce Issues of the Twenty-First Century
Chapter 3 Legal Issues
Chapter 4 Job Analysis and Design
Chapter 5 Fire Service Recruitment
Chapter 6 Selection for Employment and Promotion
Chapter 7 Training and Development
Chapter 8 Performance Appraisal
Chapter 9 Discipline
Chapter 10 Health and Safety
Chapter 11 Labor Relations and Collective Bargaining
Chapter 12 Productivity and Performance
Chapter 13 Fire Service Professional Development
Purchase Info ?
With CourseSmart eTextbooks and eResources, you save up to 60% off the price of new print textbooks, and can switch between studying online or offline to suit your needs.
Once you have purchased your eTextbooks and added them to your CourseSmart bookshelf, you can access them anytime, anywhere.
Buy Access
Fire Service Personnel Management, CourseSmart eTextbook, 3rd Edition
Format: Safari Book
$41.99 | ISBN-13: 978-0-13-504286-1