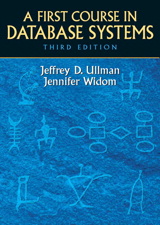 Description
For Database Systems and Database Design and Application courses offered at the junior, senior, and graduate levels in Computer Science departments.
Written by well-known computer scientists, this accessible and succinct introduction to database systems focuses on database design and use. The authors provide in-depth coverage of databases from the point of view of the database designer, user, and application programmer, leaving implementation for later courses. It is the first database systems text to cover such topics as UML, algorithms for manipulating dependencies in relations, extended relational algebra, PHP, 3-tier architectures, data cubes, XML, XPATH, XQuery, XSLT.
Supplements:
Access Student and Instructor Resources at www.prenhall.com/ullman
Table of Contents
1. The Worlds of Database Systems.
2. Introduction to the Relational Model.
3. Relational Database Schema Design.
4. Higher-Level Models for Relational Design.
PART II: RELATIONAL DATABASE PROGRAMMING.
5. Algebraic and Logical Query Languages.
6. The Database Language SQL.
7. SQL Constraints and Triggers.
8. SQL Indexes and Views.
9. SQL in a Service Environment.
10. Advanced Topics in SQL.
Web Appendix A. More About Datalog.
PART III: MODELING AND PROGRAMMING IN SEMISTRUCTURED-DATA MODELS.
11. Semistructured Data Models.
12. Query Languages for Semistructured Data.
Purchase Info ?
With CourseSmart eTextbooks and eResources, you save up to 60% off the price of new print textbooks, and can switch between studying online or offline to suit your needs.
Once you have purchased your eTextbooks and added them to your CourseSmart bookshelf, you can access them anytime, anywhere.
Buy Access
First Course in Database Systems, A, CourseSmart eTextbook, 3rd Edition
Format: Safari Book
$69.99 | ISBN-13: 978-0-13-600675-6