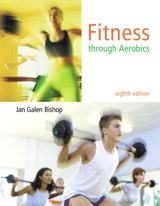 Description
Reflecting current popular topics in aerobic fitness, Fitness Through Aerobics, Eighth Edition covers a broad array of issues that speak to a wide range of aerobics instructors, and will engage students of every background and discipline. Bishop teaches steps and methodologies for performing all types of aerobic dance exercises—as well as strength and flexibility exercises that contribute to proper technique—in a straightforward, accessible writing style. CourseSmart textbooks do not include any media or print supplements that come packaged with the bound book.
Table of Contents
Chapter 1. Aerobics, Wellness, and You!
Chapter 2. Individual Differences: Let's Talk About You
Chapter 3. Fitness Components and Exercise Principles
Chapter 4. The Aerobic Target Zone
Chapter 5. Setting Goals and Reaching Your Dream
Chapter 6. Posture: A Dynamic Concept
Chapter 7. Flexibility: Warm-Up/Cool-Down
Chapter 8. Rhythmic Aerobics: Variations and Styles
Chapter 9. Muscular Fitness: Building Strength and Endurance
Chapter 10. Resistance Exercises: Weight, Bands and Balls
Chapter 11. The Mind-Body Connection
Chapter 12. Nutrition and Weight Management
Chapter 13. Prevention and Care
Chapter 14. A Lifetime of Aerobics
Appendix 1 Muscles of the Body
Appendix 2 Clothing and Equipment
Appendix 3 Internet Resources


Purchase Info ?
With CourseSmart eTextbooks and eResources, you save up to 60% off the price of new print textbooks, and can switch between studying online or offline to suit your needs.
Once you have purchased your eTextbooks and added them to your CourseSmart bookshelf, you can access them anytime, anywhere.
Buy Access
Fitness through Aerobics, CourseSmart eTextbook, 8th Edition
Format: Safari Book
$22.99 | ISBN-13: 978-0-321-69620-5