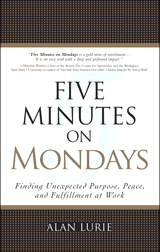 Description
Imagine the leaders of one of New York City's top real-estate firms coming together every Monday morning to hear…the moral and spiritual thoughts of a Rabbi. Wouldn't you like to be a fly on the wall? To hear the paths Alan Lurie traced for his listeners, how he helped them bring together their spiritual and business lives, the sacred and the profane? Five Minutes on Mondays compiles these talks for the first time, sharing Lurie's deep and profound inspiration on the challenges we all face–at work, and in life.
Lurie draws on millennia of philosophy, theology, and science to help us answer our deepest questions, comfort our deepest yearnings, and become better people–more connected to each other, and to the Greater Purpose.
• Prosper while keeping your integrity
• Balance faith, honor, and ambition
• Use your workplace as your moral and spiritual "gymnasium"
• Find deeper meaning and purpose in your work
• Face your fears and failures, and keep going
• Gain real respect–and give it
• Live one authentic life–at work, and everywhere else
Table of Contents
Introduction xv
Donkey for Sale: Ethical Wealth 1
Justice on the Train: Offering Criticism 9
Try Them, Try Them: Developing Persistence 17
Door Openers: Spiritual Leadership 25
Who Needs You?: Working Together 33
Listen Up: Effective Listening 41
I Don't Know: Respectful Conversation 49
In the Beginning: Keeping Resolutions 59
Prelude to Disaster: Building Confidence 65
Eureka!: Using Intuition 73
Something Creative: Accessing Creativity 81
Do You Mean It?: Discovering Meaning 91
You're Finished!: Embracing Change 99
Alone on the Sofa: Finding Truth 107
The Superior Object: Resolving Conflicts of Interest 115
Hey, You Screwed Up Again!: Transforming Mistakes 121
Making Stuff Up: Reacting Objectively 129
Waiting for Nobel: Overcoming Feelings of Inadequacy 137
Self, Actually: Being Authentic 145
Return That Call: Enlightened Self-Interest 153
So, a Horse Walks into a Bar... Taking Time for Laughter 161
What If?: Facing Fear 169
The Aim of Existence: Cultivating Happiness 177
The No Negativity Event: Living with Optimism 185
A Thankfully Short Message: Living with Gratitude 195
The Power of Three: Living with Balance 201
Take a Breath: Directed Meditation 209
Go Forth: Starting on the Spiritual Journey 217
The Lonely Man: Balancing Faith and Ambition 223
What's in Your Pocket: Integrating Opposites 233
Index 243
Purchase Info
ISBN-10: 0-13-701164-4
ISBN-13: 978-0-13-701164-3
Format: Safari PTG
This publication is not currently for sale.